More About Emerald Rings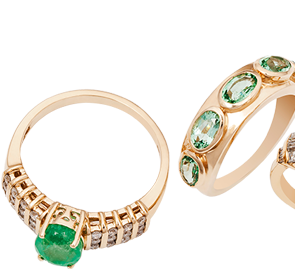 While Emerald is known to be one of the most popular stones, rings are known to be the most desired and loved piece of jewellery. The amalgamation of both - an Emerald ring forms the most prized possession of a lady. TJC's overall collection of gemstone jewellery is rich in emerald specially designed and handcrafted by exceptionally talented and skilled artisans for UK customers. With a wide price range to suit your pocket, TJC flaunts over hundred Emerald rings to complement your persona and cater to your diverse needs.
Emerald is the birthstone for the month of May marking the transition from spring to summer with its vivid green hues. Emerald is known to accentuate the beauty of the bearer when set in gold, silver or platinum and these Emerald rings have been forming an integral part of a woman's collection for hundreds of years. This enchanting gemstone has recently emerged to be the second most loved stone after Diamond with today's brides-to-be increasingly opting for Emerald rings in the UK. We at TJC offer a plethora of designs to choose from; there are engagement rings, eternity rings, and wedding rings to suit your unique style and requirement.
Emerald Engagement Rings
An engagement ring is very dear and significant, for one does not part with it until the last breath. Symbolising hope, future, renewal and growth, an Emerald engagement ring is the ultimate choice to express one's never fading commitment towards building a future together. Diamond may be a woman's best friend but there is not a more suitable gemstone to pledge one's love forever than an Emerald. Men can surprise and steal the breath of their beloved with these uniquely styled and intricately designed Emerald engagement rings. Choose the one that defines your relationship, today.
Emerald and Diamond Rings
Exuding luxury from every cut and design, TJC's Emerald and Diamond rings are a perfect accessory for all occasions, be it an intimate evening with the beloved or a significant prospective client meeting in the afternoon. Deserving a special place in your jewellery collection, Emerald and Diamond rings are mesmerising and are an epitome of elegance, garnering not only the attention but also the envy of the onlookers. TJC brings an exquisite array of pristine rings to choose from and mark that special moment of your life. Celebrate these special days every year with an immaculate Emerald ring as not only a gift but also a reassurance of your love.
Emerald Eternity Rings
An Emerald ring makes an impeccable gift, whether you wish to gift it to yourself or to your best friend, gift her one of the timeless Emerald eternity rings to express your love and gratitude. Emerald is also known to ward off evil and what better way to do that while making a style statement by donning your beautiful ring. Possessing many other momentous qualities that one adorns gemstones for; an Emerald protects, heralds good fortune, and strengthens memory and physical health for the bearer. TJC's Emerald eternity rings are exquisitely designed and crafted strongly to last a lifetime. There is no better time than today to grab one for self.
TJC always strives to help you find that one definitive and extra-ordinary piece of jewellery that defines your personality while capturing a special place in your heart.
Back to top