More About Turquoise Jewellery
The robin egg hued Turquoise is considered by some to be a symbol of good fortune and success, believed to bring prosperity to its wearer.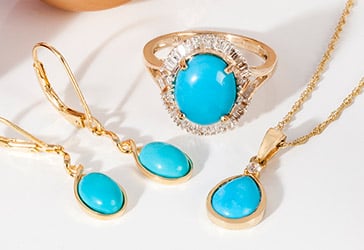 If you're born in December, but not a huge fan of Tanzanite jewellery, you're in luck! December has two birthstones – and its secondary gem is stunning Turquoise, so indulge in luxurious Turquoise jewellery and treat yourself to everything from Turquoise Earrings and rings to Turquoise bracelets and pendants.
Turquoise is also considered one of the oldest protection amulets, and is believed to give strength and peace to the wearer, while others say it offers sensitivity to the spiritual world for anyone that wears it. In this case a beautiful Turquoise pendant and necklace is the answer.
This stunning blue-green hue is recognised across the world, and it's prized for its beauty and symbolism.
It is favoured among those that prefer colour gemstones and who want to own something a little bit different.
If you really want to treat yourself or somebody else this month, Tanzanite or Turquoise jewellery UK is definitely the way to go and at TJC, we have a gorgeous range of items to choose from.
Ranging from delicate Turquoise Earrings to Turquoise statement pendants, you're sure to find something you love in our beautiful collection of two of the world's most coveted gemstones.
Shop More Turquoise Jewellery