More About Emerald Earrings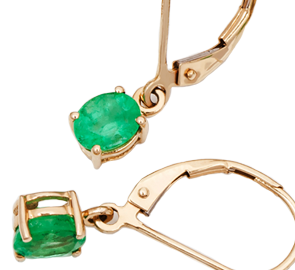 As a woman you can never have too many pairs of earrings, for it is one accessory that conspicuously complements or supplements your overall look. The green emerald earrings fortunately have been contributing to the beauty of a woman since the history of mankind. And, to feed the swelling love for emerald earrings in UK, TJC offers a wide range of unique styles and very high quality of emerald stud, drop, dangle, and diamond earrings.
Emerald with its vibrant green hues is the birthstone of May and is closer to nature than any other gemstone. TJC designs genuine emerald earrings with utmost care and precision to bring to you the most alluring pieces of jewellery set in gold, silver and platinum. From simple to stunning, from basic to chic, from formal-wear to designer-couture, TJC has an assortment of emerald earrings to suit all tastes and budgets. An emerald being one of the four most precious gemstones is not only indispensable for your collection but can also be counted-on for accentuating your personality.
Emerald Stud Earrings
Gemstone earrings are a sophisticated choice for adding the final touch to your ensemble and Emerald stud earrings are fast becoming one of the most desired jewellery items in the UK. Don them every day at work or put them on for a night out with your best friends, emerald stud earrings are perfect for every occasion. TJC offers an inexpensive range of emerald green earrings that blend in seamlessly with your wardrobe while making sure you have a rich assortment to choose from every day, when you step out to conquer the world.
Emerald Drop Earrings
Emerald is the harbinger of new spring growth, symbolizing new beginnings and change; it is also an evergreen gemstone capturing the heart of the people for centuries. If you have been falling short of ways to thank your mother or sister for having your back all these years then the appealing Emerald drop earrings from TJC are what you need. Choose from the chic, enticing and eclectic collection of TJC's online boutique, a pair of Gold Emerald earrings or Emerald drop earrings as the perfect gift for the special ladies in your life.
Emerald and Diamond Earrings
Emerald is not just a stone; it is a phenomenon so pure and rare that it is even more expensive than a diamond at times. And when coupled with the latter, the end result is nothing less than extraordinary. TJC's Emerald and Diamond Earrings are intricately designed and skilfully crafted to become your most prized possession. For the ladies who are born in May or ready to celebrate their twentieth or thirty-fifth wedding anniversaries – you now know what to ask for on the special day. Cherry-pick from the style you love the most – halo, drop, hoops, dangle, and cluster today!
Life is like the season of spring and all you need are some flowers, love and Emeralds to be happy, TJC strives to make sure you are.
Back to top