Sapphire Earrings
Sapphires are adored for their vibrant, rich hues, so indulge in the 'gem of gems' and find a beautiful pair to adorn your ears.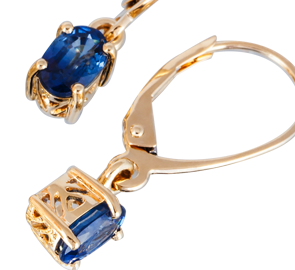 Prized as a great gemstone since 800BC, Sapphire is known as the 'Gem of Gems' capable of protecting people from harm and envy. It has been a coveted jewel decorating the robes of royalty and clergymen for centuries before being used in the jewellery for the common man. Sapphire Earrings with their vibrant blue and violet hues are much adored by women the world over and to cater to the swelling love for the same in the UK, TJC offers an exclusive collection at unbelievable prices.
It is rightly the birthstone for the month of September brightening up and overpowering the gloom of autumn. On similar lines, TJC's skilled artists have styled Sapphire earrings as studs, drop, floral, hoop, climber, dangle and chandeliers to add a dash of colour and brilliance to your look every time you put them on. Set elegantly in 9K & 18K Yellow or White gold, and platinum or gold plated Sterling Silver, our earrings collection features the entire colour spectrum of Sapphire including Pink, Yellow, Orange and Blue.
Add a vibrant glow to your workday outfit with minimalistic Sapphire studs or put them on for a casual evening out with friends, they will cast an everlasting impression. On special occasions, chandelier or Sapphire and Diamond cluster earrings are perfect for punctuating your style and turning some envious heads in your direction.
Sapphire is considered as the most regal gemstone symbolizing wisdom, power, strength, virtue and faith, and to enliven its magnificence our designers have put together some exceptional pieces under our in-house brand Iliana that only features AAA quality gems in gold. TJC's associated designers Stefy and Giuseppe Perez too have some exquisite Pink and Blue Sapphire earrings to offer at reasonable prices.
Pamper yourself or gift a loved one a lavish pair of Sapphire earrings from TJC's online boutique today!