Stud Earrings
Add a beautiful finishing touch to your look with a simple yet stunning pair of stud earrings – explore our earring boutique now…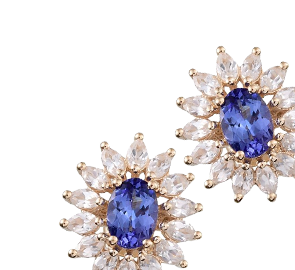 Read More About Stud Earrings
Jewellery has been an integral part of one's ensemble not just for glamming up the look for a special occasion but also for adding that finishing touch to the everyday look. Gracing the earlobes of women from ancient times, earrings have been the most adored jewellery items across the globe and are capable of altering your look drastically. One of the most popular styles is stud earrings, appearing in different shapes and sizes. Choosing a perfect pair of earrings that not only complements your attire but also enhances your beauty is a not as difficult as you may think for TJC offers an extensive range of stud earrings for the fashion-savvy women of UK.
An epitome of simplicity, stud earrings are everyday essentials and an indispensable part of your jewellery collection. TJC has some beautiful earrings to offer, ranging from designer and artistic to simple and sophisticated, to accentuate your look at every occasion. From everyday wear under the brand J Francis featuring Swarovski crystals to premium wear under the brand Iliana featuring Diamonds, we have pieces that will suit your individual style and budget. For a class apart and elegant look, pick from the likes of precious gemstones like Diamonds, Rubies, Emeralds and Sapphire or the classic pearls – cast in Yellow, Rose and White Gold or Sterling Silver with Gold and Platinum overlay.
Floating effortlessly on the earlobes, while small stud earrings complement the professional and casual look, the designer pieces in floral and cluster settings look exceptionally dressy for the evening affairs. TJC offers a balanced collection that will add sparkle to your outfit with shimmering gemstones, fun with heart, star, and moon shaped studs and drama with nature and art-inspired collections from designers like Rachel Galley, Lucy Q and Stefy.
We know you need something to express your love and affection for the special woman in your life, from time to time and nothing can be better than gifting a piece of customised jewellery. TJC puts on display the largest collection of stud earrings featuring birthstones like Tanzanite, Burmese Ruby, Sapphire, Opal, Aquamarine, Quartz, Moonstone, Turquoise, Pearl, and Emerald and so on.
Gift a pair or punctuate your earlobes today with some of the best designs at incredible prices today with TJC!