Hoop Earrings
The most popular style of earrings are hoops, so find a pair to suit your face shape and get ready to style every day!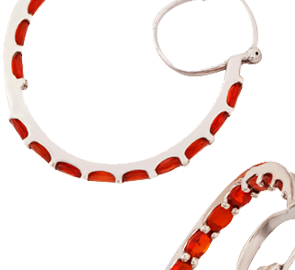 Read More About Hoop Earrings
Jewellery has been worn as an accessory since ancient times to add glamour to a woman's ensemble with earrings being the most preferred of all. Owing to their proximity to the face and placement between the hair and the dress, earrings have been most susceptible to the evolution of fashion with necklines, hairstyles, collars and hats changing every decade or so. Earrings are tricky, for they should not only match your outfit but also your face cut. A pair of chic and classy earrings can instantly glam-up your overall look which is why there are varied shapes and styles available today. The most popular style is Hoop Earrings, the origin of which can be traced back to 4000 BC.
Simplicity is the ultimate form of sophistication, said the great Leonardo da Vinci, and when it comes to jewellery, nothing can be simpler and look more sophisticated than a subtle pair of earrings dangling effortlessly from a woman's earlobes. Started as a twisted wire of precious metals like Gold and Silver shaped in a triangle, circle, oval and square, Hoop Earrings have evolved to being patterned, textured and studded with gemstones to appeal to the modern taste of the women in UK. To feed to the growing love for gemstone jewellery in UK, TJC puts on display an extensive assemblage of large and small hoop earrings studded with precious gems like Diamonds, Tanzanite, Burmese Ruby, Kanchanaburi Sapphire, Opal, Quartz, Topaz and Swarovski crystals.
Gift a pair of tiny hoop earrings to your best friend, or pick the ones studded with simulated Diamonds from our in-house brand Elanza, for your mom today. While the gemstone studded pieces cast in 9K, 14K Yellow & White gold and Silver with Platinum and Rose gold overlay can be donned for special occasions, the elegant designer earrings are everyday pieces going especially well with a sundress and a hat.
Add a splash of colours to your outfit every day with our collection of Hoop Earrings.