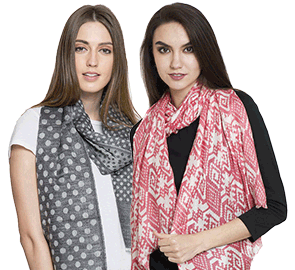 Wrap it around your neck or simply let it go flowy, a scarf is a fashion staple that amps up your look in no time. Be it a cashmere, a pashmina, or a comfy snood scarf, they know how to reincarnate your style scenes.
So, come along and find the one that is unmatchable yet be in your favourites for life. TJC Scarf auction is a legit way to get those high-priced Pashmina's or fur scurf for that evening soiree at an unbelievable price. Auctions provide an ease to finally be grabbing items that once dreamt and with TJC's user-friendly auctions, the entire process serves as a delight. Now click, bid and win that favourite which you can team proudly as a winner.
Rest your perfect scarf search between a classic check, a tartan pattern or why not a floral rendezvous? There are a plenty of styles to entice you. A scarf is no wonder an accessory that seamlessly fits into your wardrobe and makes a commendable impression when you pair it with almost any outfit in your wardrobe. TJC's vast collection of scarves make sure that it has every element to impress the women so coming in possessing have various likes or dislikes.
Keeping that in mind, scarf auctions come into rescue for simply playing with style. Get your eyes on your favourites and bid when it's on auction.
Now don't limit them only for winters, when you can take out that classic summer or spring worthy floral scarf for uplifting your style quotient. Get cues from the fashionistas and make your kinda style story.
Head to TJC's scarf auctions that are definitely one of the best scarf auctions in the UK. Look for the Goodness.
Back to top