Meet our Presenter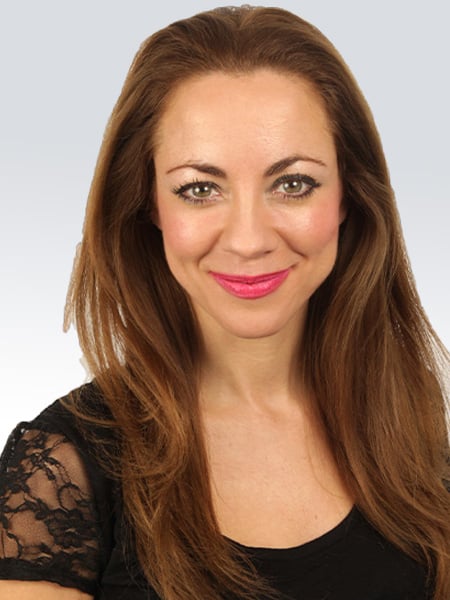 Lindsey Gundersen
Lindsey is an established TV Presenter, Auctioneer & Events MC, with over 15 years of professional experience collectively, specialising in fine art, fine wines & jewellery. As a BA Honours Art History graduate from The University of Nottingham, she spent the first 4 years of her career working in the USA as a Fine Art Auctioneer in the galleries in Michigan & Florida, plus onboard luxury cruise liners – namely, Royal Caribbean, Princess Cruises, Holland America, Carnival, Norwegian Cruise Line & Radisson Seven Seas. Following this, she progressed into television in 2006, presenting for Auction Channels in the UK on Sky & Freeview - namely, Deal TV, Vinappris (specialising in wine), Speed Auction TV, Price-Drop TV and Bid TV (specialising in jewellery).
In 2010 she moved to China to work as a lead reporter for the Shanghai World Expo, appearing daily on national prime-time television (CCTV News), which made her a local celebrity overnight and earned her an award from the chinese government for her contribution to Chinese media. She remained in Shanghai for a further 4 years reporting for the entertainment news, as well as presenting travel, cultural & lifestyle shows. Her greatest achievements in China include writing, producing, directing & presenting her own educational TV show about fine wine appreciation for the local Shanghainese (she is WSET Advanced Certified in wine knowledge), that was broadcast on Shanghai TV and in Hong Kong. She also founded her own production company, and went on to create her own online lifestyle TV show for her fellow expats. As a result a report was aired on her life, work & achievements in Asia.
In 2014, Lindsey came back to the UK, and her life-long personal passion for collecting jewellery, and acquired her Accredited Jewellery Professional Qualification with the Gemological Institute of America, while also hosting for Gems TV. She then progressed to jewellery specialist on QVC in 2016, before becoming a regular presenter on The Jewellery Channel where she remains to date! Lindsey holds an official Advanced Auctioneer's Certificate (recognised by the National Auctioneer's Association), and was asked to co-host alongside Noel Edmunds for his latest auction-format show 'Sell or Swap', that was aired on Channel 4 prime-time, December 2016. Currently you can also see her auctioneer live in London regularly alongside multiple ex-Sothebys and ex-Christies colleagues, as well as BBC's 'Bargain Hunt' Tim Wonnacott and Sean Kelly from Storage Hunters with Timeline Auctions, with whom she is their jewellery specialist. The remainder of the time(!) Lindsey hosts charity auctions internationally for The Lord Taverners (on behalf of President Angela Rippon OBE), J.Levines Arizona, The Loomba Foundation (on behalf of President Cherie Blair CBE), Cancer Research UK and even for Parliament!
What is your favourite gemstone?
There are so many it is hard to pick one! But if I had to wear one gemstone forever it would have to be a diamond. It is in a league of it's own – pure, classic, timeless. I even studied a whole module with the GIA solely on diamonds! There is nothing quite like it's brilliance, fire, scintillation & sparkle and it was the first gemstone I bought myself. I still wear this diamond trilogy ring everyday to dat,e as I feel it is the ultimate gemstone to own and the most empowering to buy yourself.
If you could sum up your look and aesthetic in three words, what would they be?
Glamour, sparkle & chic! I love stylish chic fashion, and adding glamour with sparkling statement jewellery pieces. I believe as women we should make the best of ourselves – whatever we have been given. Every woman has their own individual beauty that they can enhance in their own personalised way with the right clothing, make-up and jewellery. I remember living in China, and seeing a lot of the beautiful girls spoiling their look by dyeing their hair blond or their face white to look western. I realised then it's important to embrace what you have and enhance it, not spoil it!
Any fashion or jewellery tips?
Get your gold, rose gold & silver wardrobe together! I have a selection of silver/whitegold/platinum pieces that I compliment with cool shades of eye-shadow (silvers/purples/blues) with pink lipstick, as well as gold pieces I team up with warm shades of make-up (beige/browns/oranges) with red lipstick for a vibrant, powerful, striking look!
Who is your ultimate style icon?
I don't have one specific person, but there are lots of women I think look effortlessly glamorous, elegant and sophisticated such as Penelope Cruz, Scarlett Johanssen and Angelina Jolie. But when I think about someone I admire, it has to be my mum. Being originally from Paris she has always had the knack of looking so classy in whatever she wears, the colours/styles she chooses, and how she accessorises with jewellery and scarves always works and looks so stylish. Needless to say she watches regularly when I'm on TJC and picks and chooses items to compliment her already-chic look..
Any embarrassing on-screen moments?
I don't really get embarrassed so I'd say no, however if you asked me if I've had some very funny moments, that's a definite yes! I get the giggles sometimes, and when I do, it's hard for me to stop laughing! So that has happened a few times, which was highly amusing.
free delivery by 8, Mar 2021

free delivery by 8, Mar 2021

free delivery by 8, Mar 2021

free delivery by 8, Mar 2021

free delivery by 8, Mar 2021

free delivery by 8, Mar 2021

free delivery by 8, Mar 2021

free delivery by 8, Mar 2021

free delivery by 8, Mar 2021

free delivery by 8, Mar 2021