Mulberry Silk Front Side- Set of Pillowcase, Eye Mask, Scrunchie - Grey
Product Highlights
DESCRIPTION: Silk's natural fibres and tight weave allows your skin and hair to glide smoothly and freely over the pillowcase, decreasing friction between your hair and the silk pillowcase, eliminating dry/ knotted hair, and preventing hair loss
DESIGNED BY EXPERTS: This pillowcase, scrunchie and eye mask combination is created with 100% hypoallergenic mulberry 19 momme silk after extensive research by experts. To provide the greatest possible experience, it was brought to you after passing several quality and durability tests
QUALITY MATERIAL: This pillowcase is made of two layers of comfort, one of which is made of 100% mulberry 19 momme silk. Tencel is used on the other side of the pillow. Dermatologists recommend silk pillowcases because they are kinder to the skin than cotton pillowcases
HYALURONIC ACID AND ARGAN OIL: This pillowcase is enriched with argan oil and hyaluronic acid, which provide deep nourishment and care to your hair and skin
WASHABLE: The pillowcase can be washed in the washing machine on a cold or warm gentle cycle
DIMENSIONS: The pillowcase is 50x75 cm, making it a perfect match for its appearance and distinct style. An eye mask and scrunchie is also included with this set for added convenience
Product Highlights
DESCRIPTION: Silk's natural fibres and tight weave allows your skin and hair to glide smoothly and freely over the pillowcase, decreasing friction between your hair and the silk pillowcase, eliminating dry/ knotted hair, and preventing hair loss
DESIGNED BY EXPERTS: This pillowcase, scrunchie and eye mask combination is created with 100% hypoallergenic mulberry 19 momme silk after extensive research by experts. To provide the greatest possible experience, it was brought to you after passing several quality and durability tests
QUALITY MATERIAL: This pillowcase is made of two layers of comfort, one of which is made of 100% mulberry 19 momme silk. Tencel is used on the other side of the pillow. Dermatologists recommend silk pillowcases because they are kinder to the skin than cotton pillowcases
HYALURONIC ACID AND ARGAN OIL: This pillowcase is enriched with argan oil and hyaluronic acid, which provide deep nourishment and care to your hair and skin
WASHABLE: The pillowcase can be washed in the washing machine on a cold or warm gentle cycle
DIMENSIONS: The pillowcase is 50x75 cm, making it a perfect match for its appearance and distinct style. An eye mask and scrunchie is also included with this set for added convenience

3 Instalments of £13.33
Details
https://www.tjc.co.uk/home-textiles/set-of-2---100--mulberry-silk-front-side--pillowcase50x75cm-eye-mask-23.5x10.5cm---dark-grey-3816791.html
Product Actions
Product Highlights
DESCRIPTION: Silk's natural fibres and tight weave allows your skin and hair to glide smoothly and freely over the pillowcase, decreasing friction between your hair and the silk pillowcase, eliminating dry/ knotted hair, and preventing hair loss
DESIGNED BY EXPERTS: This pillowcase, scrunchie and eye mask combination is created with 100% hypoallergenic mulberry 19 momme silk after extensive research by experts. To provide the greatest possible experience, it was brought to you after passing several quality and durability tests
QUALITY MATERIAL: This pillowcase is made of two layers of comfort, one of which is made of 100% mulberry 19 momme silk. Tencel is used on the other side of the pillow. Dermatologists recommend silk pillowcases because they are kinder to the skin than cotton pillowcases
HYALURONIC ACID AND ARGAN OIL: This pillowcase is enriched with argan oil and hyaluronic acid, which provide deep nourishment and care to your hair and skin
WASHABLE: The pillowcase can be washed in the washing machine on a cold or warm gentle cycle
DIMENSIONS: The pillowcase is 50x75 cm, making it a perfect match for its appearance and distinct style. An eye mask and scrunchie is also included with this set for added convenience
Product Details
Brand

serenity

Material

Mulberry Silk

Colour

Grey

Dimensions

50X75 cm

Product Code

3816791

Type

Pillow Case

Care Instructions

Machine Wash

Benefits

Keeps You Warm and Cozy, Softness and breathability

Material Percentage

100% Mulberry Silk

Assembly Required

No

Special Feature

Breathable, Durable, Eco Friendly, Hypoallergenic, Light-Weight, Multi Purpose, Natural, Soft Material, Ultra Soft
Product Description

100% Mulberry Silk Hyaluronic Acid and Argan Oil Infused Pillowcase - Grey
Have a cosy and well-nourished deep sleep with this TJC special pillow. The must-have pillow comes infused with the goodness of argan oil and hyaluronic acid. Read more: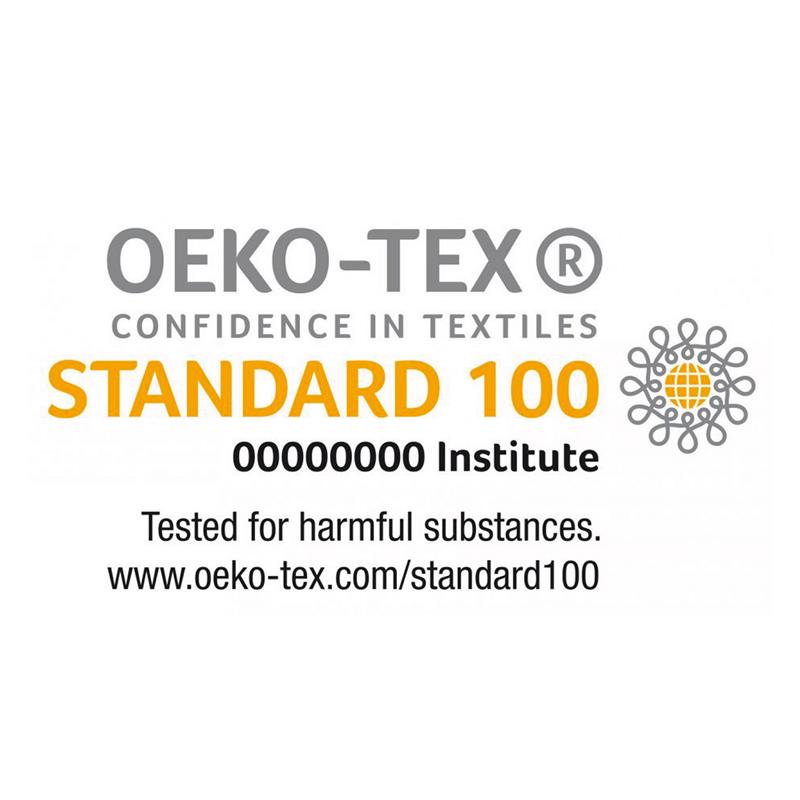 It has been certifief by Oeko Tex Standard 100, which is considered one of the world's best-known labels, known for textiles tested against harmful substances.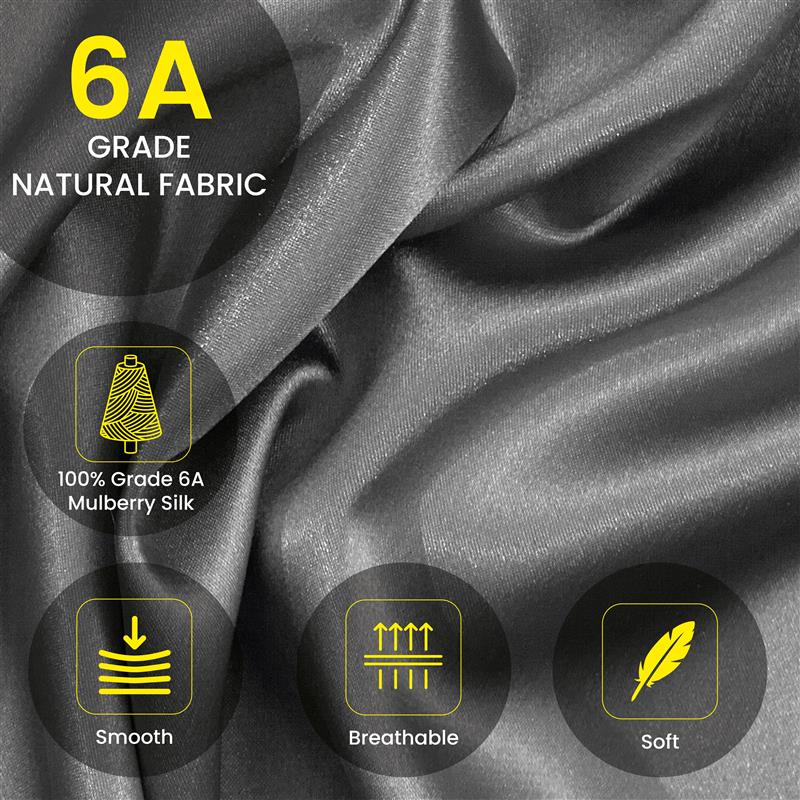 The pillowcase has been made from hand-spun 6A grade mulberry silk, which is light in weight, smooth to touch, and incredibly soft to feel.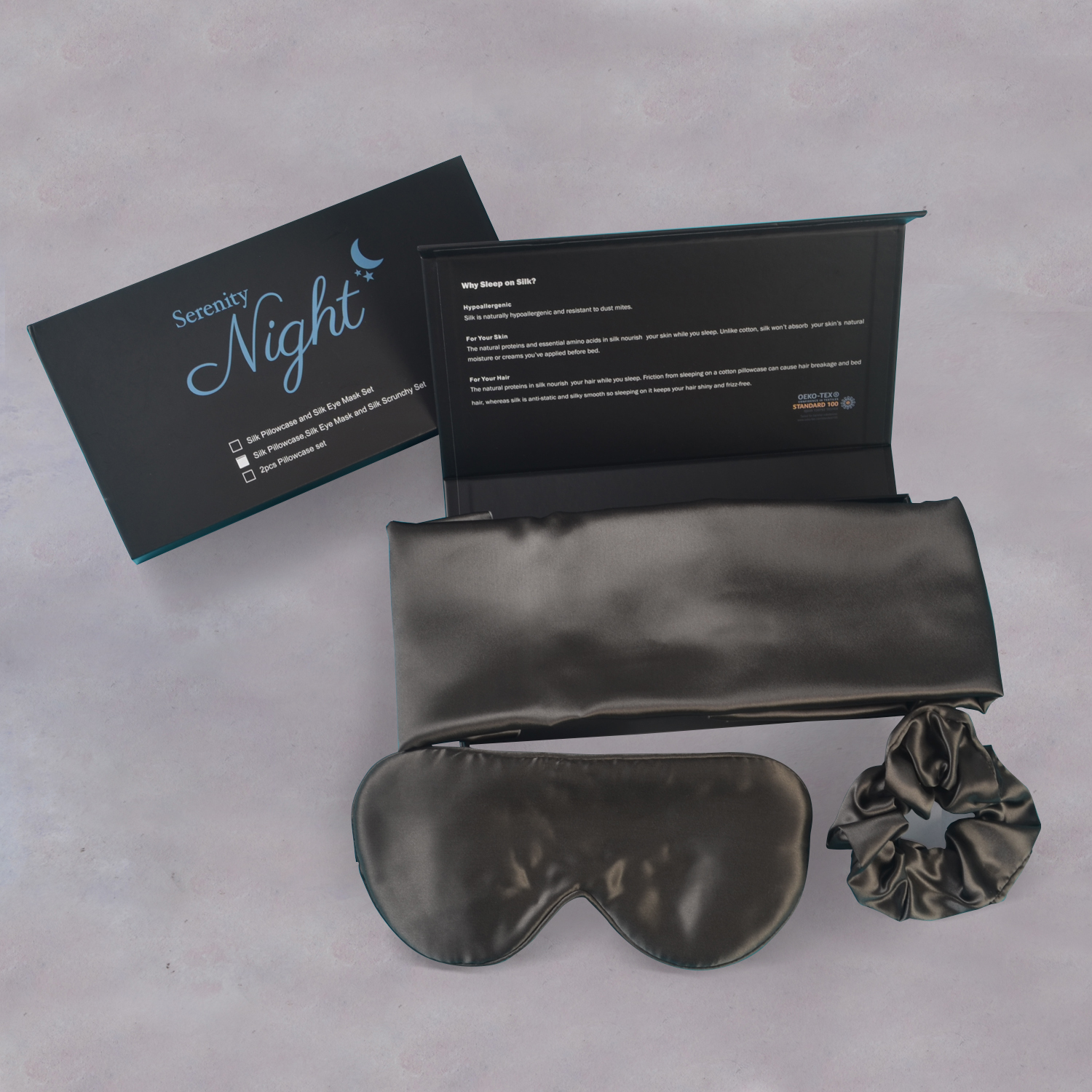 This set of three which includes a Pillowcase, an Eye Mask and a Scrunchie has its top side featuring 19 momme silk, while the lower side has been made from tencel fabric that offers friction against bedding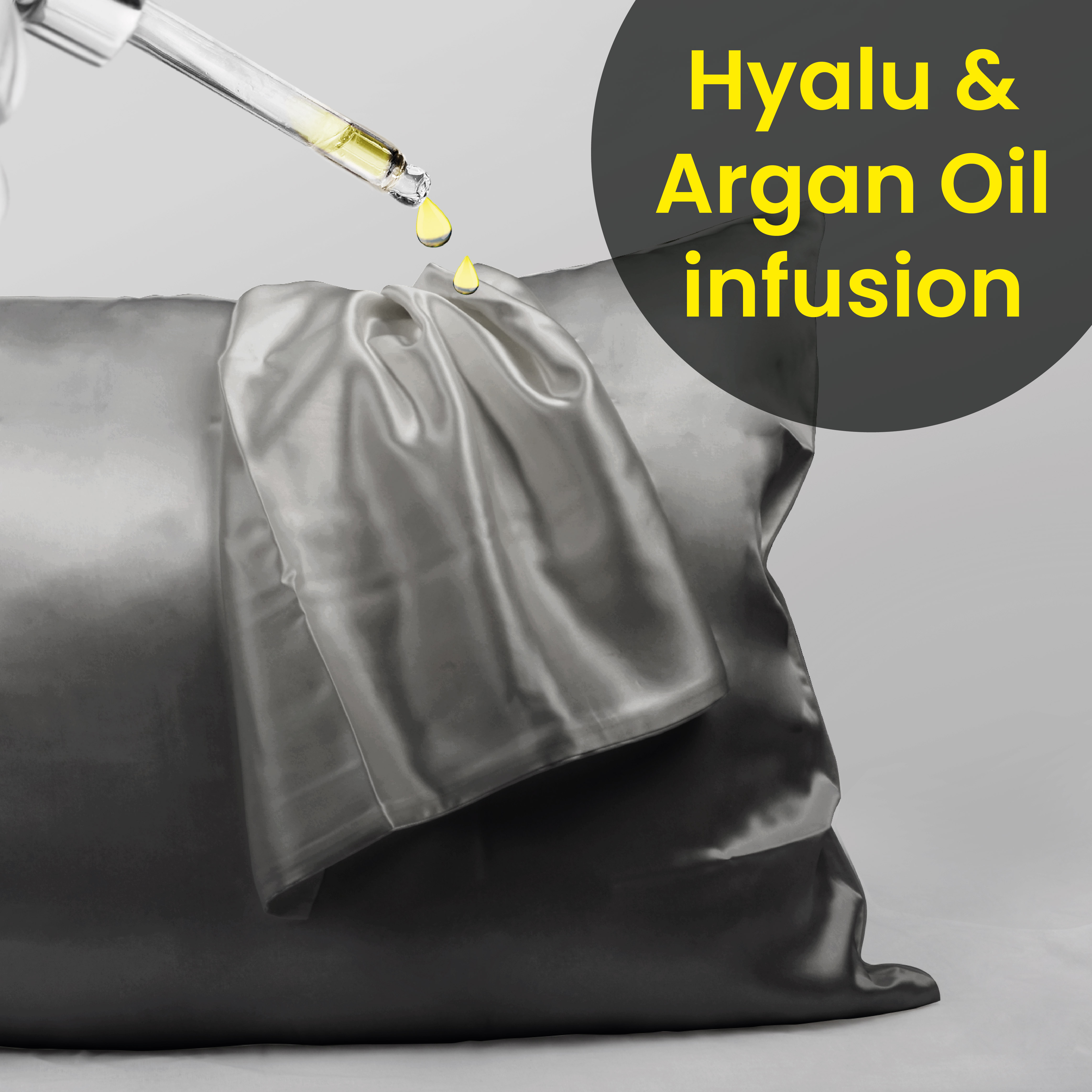 Offered with the goodness of Argan Oil and Hyaluronic acid, this pillowcover is sure make your skin smooth, and supple and make your hair shine healthily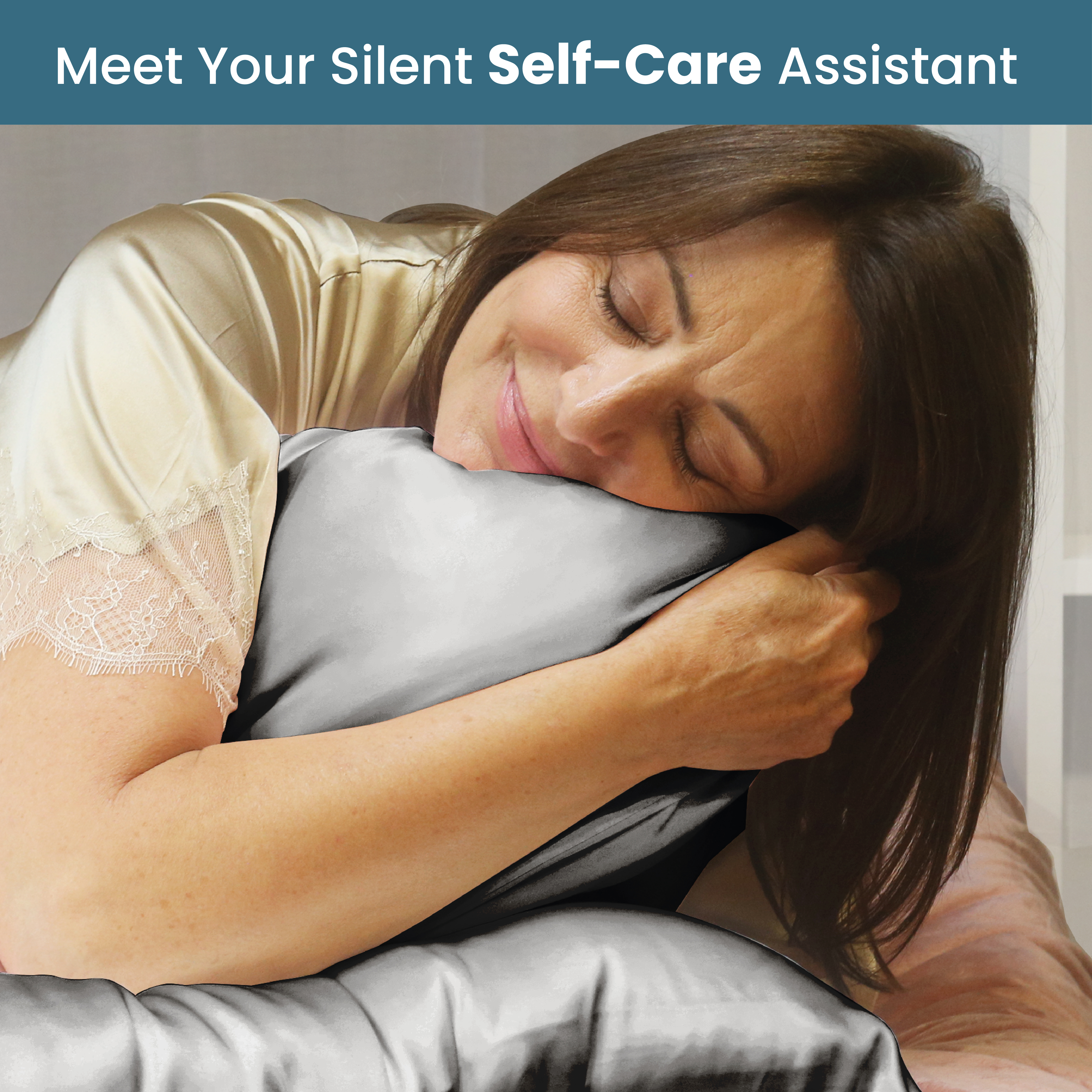 A magical fabric, mulberry silk is resistant to wrinkles and doesn't lose its colour, even after repeated washes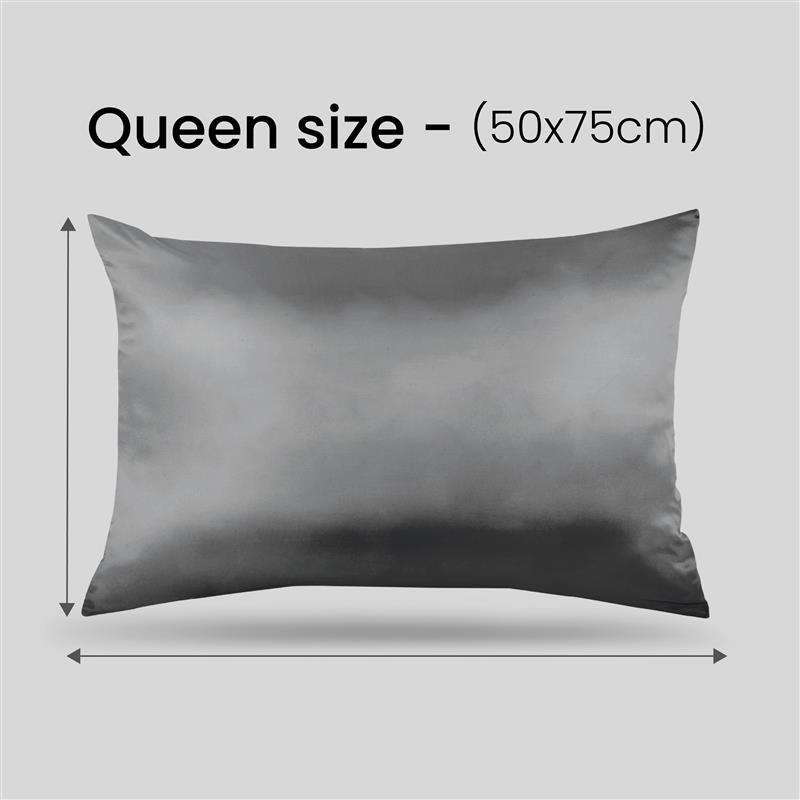 The pillowcase is best used for queen size bed, featured in the size 50x75 cms