Gardening Direct Collection of 6 Indoor Succulents Mini Mix 5.5cm pots
Product Highlights
COLLECTION OF 6: These 6 indoor succulents are the must-have plants for indoor gardeners right now; you can't avoid succulent gardening's popularity! This is your chance to join in and cultivate these fun, easy plants with our collection of 6 tried and tested plants
A PERFECT GIFT: This collection is perfect as a present for those who are new to gardening and want to try their hand at growing something or as a way to introduce children to the fascinating world of plants
MAINTENANCE-FREE: Succulents have evolved to survive with very little water, storing what they do get in their fleshy leaves, making them ideal for modern house living and nearly maintenance-free
FOR EVERYONE: These succulent plants, which require very little maintenance, are the ideal houseplant for anyone, whether they're professionals or novices
CONTENTS: This collection comes with 6 Indoor Succulents Mini Mix in 5.5cm pots
DISCLAIMER: Unfortunately, we are not shipping live plants to Northern Ireland at the moment
Product Highlights
COLLECTION OF 6: These 6 indoor succulents are the must-have plants for indoor gardeners right now; you can't avoid succulent gardening's popularity! This is your chance to join in and cultivate these fun, easy plants with our collection of 6 tried and tested plants
A PERFECT GIFT: This collection is perfect as a present for those who are new to gardening and want to try their hand at growing something or as a way to introduce children to the fascinating world of plants
MAINTENANCE-FREE: Succulents have evolved to survive with very little water, storing what they do get in their fleshy leaves, making them ideal for modern house living and nearly maintenance-free
FOR EVERYONE: These succulent plants, which require very little maintenance, are the ideal houseplant for anyone, whether they're professionals or novices
CONTENTS: This collection comes with 6 Indoor Succulents Mini Mix in 5.5cm pots
DISCLAIMER: Unfortunately, we are not shipping live plants to Northern Ireland at the moment

4 Instalments of £3.74
Details
https://www.tjc.co.uk/home-decor/ygl--%3A-plant--%3A-live-plants-%3A-one-size-%3A-multicolor-8858815.html
Product Actions
Product Highlights
COLLECTION OF 6: These 6 indoor succulents are the must-have plants for indoor gardeners right now; you can't avoid succulent gardening's popularity! This is your chance to join in and cultivate these fun, easy plants with our collection of 6 tried and tested plants
A PERFECT GIFT: This collection is perfect as a present for those who are new to gardening and want to try their hand at growing something or as a way to introduce children to the fascinating world of plants
MAINTENANCE-FREE: Succulents have evolved to survive with very little water, storing what they do get in their fleshy leaves, making them ideal for modern house living and nearly maintenance-free
FOR EVERYONE: These succulent plants, which require very little maintenance, are the ideal houseplant for anyone, whether they're professionals or novices
CONTENTS: This collection comes with 6 Indoor Succulents Mini Mix in 5.5cm pots
DISCLAIMER: Unfortunately, we are not shipping live plants to Northern Ireland at the moment
Product Details
Brand

gardening direct

Product Code

8858815

Type

Plants

Position

Sunny, (keep out of direct sunlight)

Height Spread

15cm x 30cm

Hardiness

Frost tender, indoor plant

Specification

Supplied as established plant in 5.5cm pots, ready to go on display.
Product Description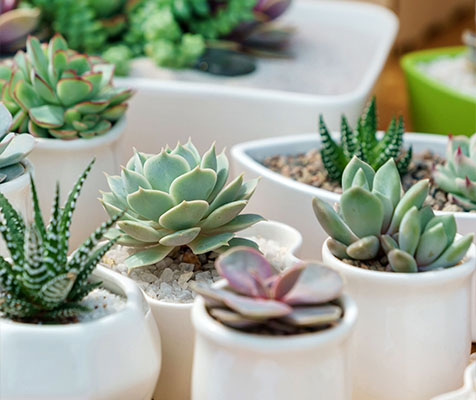 About Collection of 6 Indoor Succulents
Currently the must-have plants for indoor gardeners, you can't escape the rise of succulent gardening! With our collection of 6 tried and tested plants, this is your opportunity to join in and grow these fun, easy plants!
Perfect as a gift for those new to gardening who want to grow something, or as a way to introduce children to the wonderful world of plants, this collection of succulent plants is very forgiving and will tolerate more than the occasional bout of neglect.
Succulents have evolved to survive with very little water, storing what they do get in their fleshy leaves, so are perfectly adapted to modern home living and are almost fuss-free!
If you're short on time but still want plants around you (after all, they do help clean the air in your home), then this is your solution! Slow-growing, they are the perfect for home decoration, especially when placed in a pretty pot on a bright windowsill.
Like cacti, they're ideal to get kids interested in gardening with their spiky shapes, just remember that they can be a bit sharp, so take care when handling them.
How to Care
Always use specialist cactus compost when potting. This is sandier and grittier than ordinary compost which helps keep the plants dry.
Keep plants frost free - although some will tolerate low temperature, in general they need to be kept above 8-10C, so make ideal houseplants.
While succulents can survive on very little water, they will not thrive. From April to September, water weekly, allowing the compost to soak up water and drain freely. Feed with a general-purpose feed at 1/4 strength once a fortnight.
From October to March, water only when the compost has dried and then only enough to stop plants shrivelling.
Keep your plants in bright, but not direct sunlight - an east or west facing windowsill is ideal.
Dust can build up over time, so keep a soft paintbrush handy to remove it as necessary.