One Truth 818: Anti-Ageing Serum, Scientific Skincare with Telomere Support Slows Ageing and Intensive Hydration, Helps in Reducing Wrinkles and Pigmentation
Product Highlights
VISIBLE RESULTS IN FEW MONTHS: This anti-ageing serum helps diminish the appearance of wrinkles, lines, and loss of elasticity while also slowing down the ageing process. One Truth 818 is known to assist in improving skin firmness by an average of 20.33% in just a few months, reduce forehead wrinkles by 14.04%, reduce crow's feet wrinkles by 11.07%, and increase skin elasticity by 8.33%, according to Abich laboratories
ANTI-AGEING SERUM: Its advanced formula gets absorbed into the skin and helps to fight all signs of ageing and also helps in decreasing the ageing process by reducing cell division
QUICK AND LONG-LASTING RESULTS: The active component TAM-818, created by Dr Bill Andrews, is the strongest 'Telomerase Activator' ever discovered and is scientifically confirmed to be more than 300 times stronger than any other anti-ageing ingredient on the earth, according to Nobel Prize-winning science. It activates the enzymes that re-lengthen telomeres and reverse biological ageing
INCREDIBLY HYDRATING: A light, cooling gel with a velvety texture. It's non-sticky, non-greasy, and absorbs into your skin almost instantaneously. Use all over the face, eyes, lips, and neck. One Truth 818 serum contains phospholipids such as sunflower and lecithin, omega 3 and 6 fatty acids, jojoba esters, macadamia emollients, omega 3 and 6 fatty acids, jojoba esters, and macadamia emollients. When you use this serum, you'll notice a decrease in trans-epidermal water loss (deep hydration) and a reduction of trans-epidermal water loss (deep hydration)
KIND TO SENSITIVE SKIN: Non-irritating, non-toxic, and non-sensitising. In our products, we exclusively utilise natural, eco-certified fragrances. This gentle serum has been proved to relieve redness, broken capillaries, and rosacea in sensitive skin. In addition, activating telomerase as a lightening serum lowers obvious pigmentation concerns. To get the most out of it, use it twice a day
Product Highlights
VISIBLE RESULTS IN FEW MONTHS: This anti-ageing serum helps diminish the appearance of wrinkles, lines, and loss of elasticity while also slowing down the ageing process. One Truth 818 is known to assist in improving skin firmness by an average of 20.33% in just a few months, reduce forehead wrinkles by 14.04%, reduce crow's feet wrinkles by 11.07%, and increase skin elasticity by 8.33%, according to Abich laboratories
ANTI-AGEING SERUM: Its advanced formula gets absorbed into the skin and helps to fight all signs of ageing and also helps in decreasing the ageing process by reducing cell division
QUICK AND LONG-LASTING RESULTS: The active component TAM-818, created by Dr Bill Andrews, is the strongest 'Telomerase Activator' ever discovered and is scientifically confirmed to be more than 300 times stronger than any other anti-ageing ingredient on the earth, according to Nobel Prize-winning science. It activates the enzymes that re-lengthen telomeres and reverse biological ageing
INCREDIBLY HYDRATING: A light, cooling gel with a velvety texture. It's non-sticky, non-greasy, and absorbs into your skin almost instantaneously. Use all over the face, eyes, lips, and neck. One Truth 818 serum contains phospholipids such as sunflower and lecithin, omega 3 and 6 fatty acids, jojoba esters, macadamia emollients, omega 3 and 6 fatty acids, jojoba esters, and macadamia emollients. When you use this serum, you'll notice a decrease in trans-epidermal water loss (deep hydration) and a reduction of trans-epidermal water loss (deep hydration)
KIND TO SENSITIVE SKIN: Non-irritating, non-toxic, and non-sensitising. In our products, we exclusively utilise natural, eco-certified fragrances. This gentle serum has been proved to relieve redness, broken capillaries, and rosacea in sensitive skin. In addition, activating telomerase as a lightening serum lowers obvious pigmentation concerns. To get the most out of it, use it twice a day

4 Instalments of £37.49
Details
https://www.tjc.co.uk/health-beauty/one-truth-818%3A-anti-ageing-serum---50ml-7609131.html
Product Actions
Product Highlights
VISIBLE RESULTS IN FEW MONTHS: This anti-ageing serum helps diminish the appearance of wrinkles, lines, and loss of elasticity while also slowing down the ageing process. One Truth 818 is known to assist in improving skin firmness by an average of 20.33% in just a few months, reduce forehead wrinkles by 14.04%, reduce crow's feet wrinkles by 11.07%, and increase skin elasticity by 8.33%, according to Abich laboratories
ANTI-AGEING SERUM: Its advanced formula gets absorbed into the skin and helps to fight all signs of ageing and also helps in decreasing the ageing process by reducing cell division
QUICK AND LONG-LASTING RESULTS: The active component TAM-818, created by Dr Bill Andrews, is the strongest 'Telomerase Activator' ever discovered and is scientifically confirmed to be more than 300 times stronger than any other anti-ageing ingredient on the earth, according to Nobel Prize-winning science. It activates the enzymes that re-lengthen telomeres and reverse biological ageing
INCREDIBLY HYDRATING: A light, cooling gel with a velvety texture. It's non-sticky, non-greasy, and absorbs into your skin almost instantaneously. Use all over the face, eyes, lips, and neck. One Truth 818 serum contains phospholipids such as sunflower and lecithin, omega 3 and 6 fatty acids, jojoba esters, macadamia emollients, omega 3 and 6 fatty acids, jojoba esters, and macadamia emollients. When you use this serum, you'll notice a decrease in trans-epidermal water loss (deep hydration) and a reduction of trans-epidermal water loss (deep hydration)
KIND TO SENSITIVE SKIN: Non-irritating, non-toxic, and non-sensitising. In our products, we exclusively utilise natural, eco-certified fragrances. This gentle serum has been proved to relieve redness, broken capillaries, and rosacea in sensitive skin. In addition, activating telomerase as a lightening serum lowers obvious pigmentation concerns. To get the most out of it, use it twice a day
Product Details
Product Code

7609131

Type

Face Serum

Benefits

Anti-Bacterial, Hydrate & Refresh Skin, Reduce Fine-Lines, Reduce Wrinkles, Refreshing, Removes Dead Skin Cells, Silky And Glowing Skin, Softening

Body Area

Face

item Form

Oil

Product Packaging

Single

Volume

50 ml

Gender

Female

Skin Concern

Fine Lines & Wrinkles , Lifting & Firming

Skin Type

All Skin Types

Special Feature

Anti Ageing, Cleansing, Firming, Freshening, Hydrating, Moisturising, Smoothing, Soothing
Product Description

One truth 818 serum contains tam-818, a telomerase-inducing active component that can slow down the anti-ageing process and diminish the emergence of fine lines and wrinkles. Enriched with jojoba esters and macadamia emollients, this serum is the visibly proven way to reverse the appearance of ageing in your skin. Its clinically tested formula is formulated in New Zealand using the TAM-818 molecule, which enhances skin's radiance, firmness, wrinkles, smoothness, pigmentation, and hydration.
One Truth 818 anti-ageing serum is infused with an active ingredient called TAM-818, the strongest of nearly 300,000 compounds tested over 11 years by award-winning Telomere Biologist Dr Bill Andrews and his team at Sierra Sciences. Our telomeres (the "tails" on the end of our DNA) shorten as we age, making our cells age. The 818 molecule activates and lets our cells to release a natural enzyme called telomerase, which lengthens our telomeres again using our body's natural enzyme, resulting in youthful cells and skin. Tam 818 is the most powerful telomerase activator that has ever been created.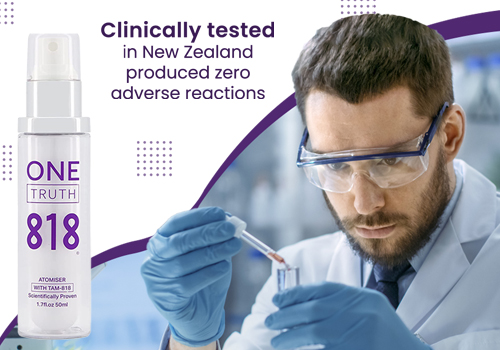 Clinical studies support the usage of One Truth 818, which has been shown to slow down the ageing process and reduce the emergence of wrinkles, fine lines and loss of elasticity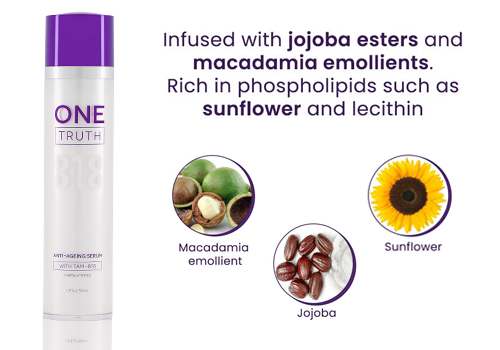 This powerful combination of ingredients is incredibly hydrating to your skin, showing a decrease in trans-epidermal water loss (deep hydration) when using this serum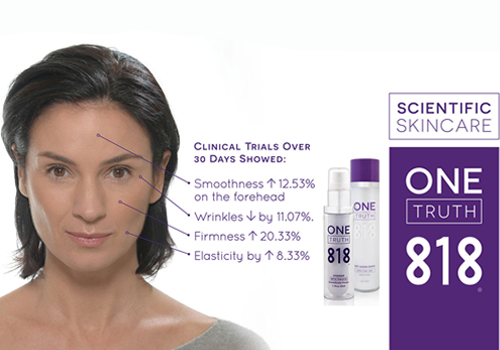 One Truth 818 improved skin firmness by 20.33% in just few months. It also reduced forehead wrinkles by 14.04%, crow's feet wrinkles by 11.07%, and increased skin elasticity by 8.33%
FAQ's
How quickly will I see results?
Most people notice a result within the first 2 weeks, if following suggested protocols of use. We suggest taking a 'before' shot so the consumer can really compare the difference. The results can be 'subtle' compared to botox or fillers for example, but a photo will demonstrate the improvements to fine lines and wrinkles, increased elasticity, decreased sensitivity, diminished hyperpigmentation and quality of pores.
How long will the products last?
50ml units lasts approximately 8-10 weeks. That is, using the Serum twice daily and the Atomiser 4 times daily.
Are One Truth 818 products safe to use on sensitive skin?
Yes. In fact the hydrating properties and the decrease in transepidermal water loss can help to strengthen skin and reduce sensitivity. TAM818 has been shown to rebuild capillaries and anecdotal evidence shows significant improvements on Rosacea inflicted skin.
What independent efficacy testing has been performed on TAM-818?
In a 30-day time period TAM818 has been scientifically proven to:• Improve Skin Firmness by an average of 20.33%• Increase Skin Elasticity by 8.33%.• Improve Skin Smoothness and texture by 12.53% on the forehead and 9.63% in the eye area.• Decrease Forehead wrinkles by 14.04% and crows feet wrinkles by 11.07%.
Can I continue with all my other regular beauty treatments?
Yes, please do! Except we recommend against the use of very high grade, surface damaging, exfoliation techniques and treatments which speed up the natural rate of cell division, thus causing increased telomere shortening and ultimately speeding up the rate of which your skin is ageing.
What kind of fragrance is used in One Truth 818 products?
We only use natural, ecocertified 'fragrance' in our products.
Does One Truth 818 contain parabens?
One Truth 818 products do not contain parabens.
Where are One Truth 818 products manufactured?
One Truth 818 is made in a GMP facility in New Zealand by Chase Life Extension Foundation Ltd who hold the license to use TAM-818 in a skincare product. Sierra Sciences are based in Reno, Nevada, USA