GARNET
Watch Video
Spellbinding and showstopping, these little beads of crimson jewels are what you have shown lots of love to. Garnet is a stone that has made its place in the hearts and sights of countless. The hypnotising clarity and sinful colour hold a lot of mysticism. Evoking a deep sense of luxury, the excellence of garnets is loved and cherished by everyone. Absolutely bewitching in all senses and ways, they're popular and loved for their fabulous crimson red hues. However, they can be seen in other colours, too. There's a lot of mystery in the air when it comes to these spectacular treats of nature. We have collected a reservoir of knowledge and information, containing all that you need to know about this spell-casting gemstone. Come and read everything we have to tell about these absolute luxuries!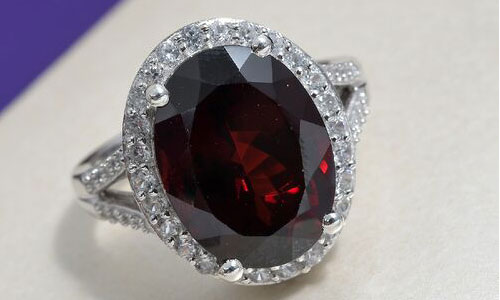 Origin and Supply
Known to be ages old, garnet has been loved by humanity for its excellent hues. It has not only been used for jewellery, but also notes some uses as an abrasive, too. Gemologists have regarded it as not a single mineral, but a group of some. The group of different silicate minerals have the same crystalline structure, but they have different chemical compositions. Contrary to popular belief, the stone is available in many more colours than just red. Other noted hues of this stunning jewel are orange, brown, blue, purple, pink, and even colourless! That said, the most popular and reigning colour remains the dark and stunning shade of red. Name of the word "garnet" is believed to have originated from 14th Century's Middle English word "gernet," which meant "dark red." The Middle English word has been taken from the Latin word "granatus," which can be traced back to "granus" for seeds. Garnet is a beautiful gemstone that can be found all across the globe. As previously mentioned, it is a group of silicate minerals. Every different composition can be traced to a different source. It's a stone that has been abundantly located across the globe. Some of its major locations are Mozambique, Madagascar, USA, Kenya, Turkey, and even Tanzania.
What to Remember While Buying Garnets?
Garnet is a beautiful stone that can be abundantly found across the globe. It is neither very cheap, not very expensive. But you still need to practice caution when you're out buying this brilliant gem. Below are mentioned a few tips, tricks, and advises that will bring you the best quality for your buck:
1.It is needful to know and understand that ruby and garnet are two different stones. They both belong to different mineral families and have different colours, too. In fact, you may also find variance in both their shades of red.
2.Before buying the stone, known all there is to know about this gem. It is important that you educate yourself about the determining factors that affect the quality of your stone. These are called the 4Cs and they've been mentioned above.

...

3.The best way of distinguishing your stone from a ruby is by studying its colour. The intensity of red in garnet will always be a lot denser as compared with in ruby. The colour of ruby is considered to be much brighter, while the crimson of garnet is darker.
4.A remarkable way of finding out if your gem is real is by holding it up against the light. Real garnets will almost always have small inclusions, if seen under magnification. The cheaper imitations will be absolutely clear.
5.Know that red isn't the only colour available in the stone. There are lots more colours that garnet has to offer. Always ask for more varieties of the gem colour. You don't have to settle for its red colour.
6.Always keep in mind the importance of good cut. If you don't purchase a specimen that reflects light in the right way, the lustre of this gem will go to waste. Ensure that the cuts and facets of your garnet throw off light in a beautiful way.
7.Garnet ranks considerably low on the Mohs Scale of Hardness, which is around only 6.5-7. This means that is easier to have scratches, cracks, and external abrasions, as compared with ruby, which ranks 8.
8.Ask your jeweller about the treatments practiced on this stone. Usually, most of the gems go under some sort of treatment to enhance their colour or strengthen their stability. However, neither heat nor irradiation treatment work on garnet.
9.If you're harbouring any kind of doubts about the authenticity or quality of the natural gemstone, always ask for proof. Your retailer should be easily able to offer you certificate of authenticity of the gem.
10.The value of a garnet with the brilliant cut will always be lower, as it doesn't reflect but absorb light. If you're looking for the right cut of this gem, always opt for more ordinary cuts like round, oval, emerald, and more.
free delivery by 26, Feb 2021

free delivery by 26, Feb 2021
Frequently Asked Questions About Garnet
1. What Is the Rarest Colour of Garnet?
There are lots of colours and shades available of this gorgeous gemstone. The most popular colour is red, while one of the more regal shades is orange. However, the rarest of all the colours is the exotic and stunning green, displayed in tsavorite garnet.
2. How Can You Tell If Garnet Is Real?
Garnets come with a lot of cheap imitations. In fact, the ones made from glass are quite similar to the real ones. The best way of identifying them from real ones is by holding them close to the eye against light source. You'll see kaleidoscopic hues playing inside of it.
3. Does Garnet Scratch Easily?
Garnet ranks 6.5-7 on the Mohs Scale of Hardness. This means that it's pretty durable. However, it is still susceptible to scratches and external abrasions from a strong impact or when rubbed against surfaces stronger than this.
4. What Is the Difference Between A Garnet and A Ruby?
The mentioned two stones have often been confused with each other. If you put them together, you may find it rather easy to differentiate. The rich red of ruby is a lot lighter and more vivid, while garnet has a richer and darker tones of the colour.
5. Where is Garnet Found?
Garnet is quite an abundant stone. It has been sourced from lots of locations spanning across the globe. From its more popular sources are Brazil, Madagascar, India, Mozambique, Kenya, USA, and many more.
6. Is Garnet A Lucky Stone?
Many people believe that garnet is, in fact, quite a lucky stone. It is believed that wearing the stone brings luck in friendship, love, and career. It is considered to be among the stronger gems of the healing world.
7. Is Garnet A Birthstone?
Garnet Birthstone has been assigned for the month of January. It was done back in the year 1912 at the time of accumulation of list of birthstones. It is believed that it would bring luck and happiness to the people born during the month.
8. What Is A Green Garnet?
It has been mentioned many times above that garnet is a stone that's available in a whole rich range of colours. Green garnet is a variety that's rare and extremely prized. It's called the Tsavorite Garnet and it has deep and exotic colour, very much like that of emerald.
9. What Are the Healing Properties of Garnet?
Over the centuries, garnet has been associated with a lot of power. People believe that there are lots of benefits of wearing the stone, some of which are also for physical ailments. Healers claim that it helps in purifying the blood and strengthening the immunity system.
10. How rare is Tsavorite Garnet?
Tsavorite garnet is considered to be among the rarest varieties of the stone. This is rarely found in sizes more than 2.5 carats, which makes it extremely prized and treasured. In fact, much caution is practiced while cutting it, so they can minimize the loss in roughage.