More about Tanzanite Jewellery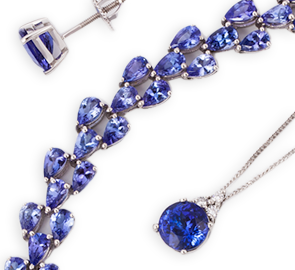 The month of December is all about indulgence which is why it's certainly fitting that Tanzanite is the month's stunning birthstone.
You can only find December's birthstone- Tanzanite in one place on earth - Tanzania. The stone was discovered in 1967 when a Maasai tribesman called Ali Juuyawatu shared his unusual find with a tailor who was in the area looking for rubies Manuel de Souza.
Although it was only discovered fairly recently, Tanzanite has fast become one of the best known gemstones in the world, perfect for using in jewellery the UK and across the world.
Its stunning array of colours, from a pale violet-blue to strong ultramarine blue-purple, has resulted in it quickly becoming a must-own stone resulting in Tanzanite rings, Tanzanite earrings and other beautiful Tanzanite jewellery.
Tanzanite is the go-to gem for those that want something a bit different from diamonds, especially if you're looking for an engagement, Tanzanite Engagement rings are the perfect option. Perfect for all sparkle lovers, the colour of tanzanite adds another dimension to any jewellery.
Back to top