Cross Necklaces
From sleek and delicate to bold and chunky cross necklaces, keep your faith close to your heart in style - we have pieces to suit every individual.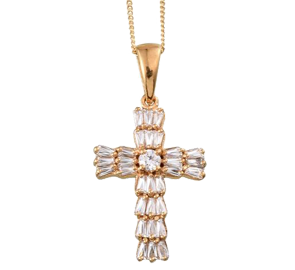 Read More About Cross Necklace
Men and women have been wearing jewellery as a symbol of status and religious beliefs for centuries now and among all the symbols, 'Cross' is the most popular and widely worn representation of one's religious inclination. Once worn only by the clergymen and royalty, Cross jewellery, over the years, especially the necklaces have won the hearts of exquisite jewellery lovers everywhere. Wrapped elegantly around the neck, a Cross necklace is not just a trend but a way to express one's faith and love for the beauty of a piece of the world's history. TJC brings for the men and women of the UK an impressive array of Cross necklaces at incredible prices.
From sleek and delicate to bold and chunky, we have pieces to suit individual style and resources. TJC's skilled designers and craftsmen have created these Cross necklaces either in Stainless Steel or Sterling Silver with some of the designs overlaid with Platinum, Gold and Rhodium for an opulent look. While they are essentially worn as everyday pieces keeping your faith close to your heart, the embellished ones with diamonds or other gemstones can be worn as a trendy fashion accessory as well. The kind of jewellery a woman puts on speaks volumes about her personality and donning a classy White or Rose Gold Cross Necklace will be a testament to your beliefs as well as your fashion sense.
Choose the simple, solid silver Cross necklaces as a daily testimony of your faith and turn to the elaborate pieces featuring Diamonds, Rubies, Sapphires, Emeralds, Lapis Lazuli and Austrian Crystals for special occasions. Pair it with an off-shoulder dress for a dramatic look at a sundown event or let the sleek pendant peek stylishly from your button-down shirt on a workday. It is a must-have piece for women of all age groups and classes of society. Pamper yourself with an exquisite piece from the house of designer Stefy or our in-house brand J Francis featuring the sparkly Swarovski Crystals or pick it up as a thought-over Christmas gift for a dear one.
The Cross necklaces from TJC are forever pieces you can wear them for a lifetime or save them for the generations to come.