Tiger's Eye
Tigers Eye Stone
Part of the quartz family, tiger's eye stones display some of the richest colours and textures we have yet discovered in gems – when polished, they have a gorgeous silky, shiny lustre along with a deep red/orange and black patterning that is reminiscent of the fierce animal it is named after.
Origin & Supply of Tiger's Eye
In mineralogy terms, tiger's eye gems are known as pseudomorphs (from the Greek word meaning 'false form') - this means that one mineral replaces another in the formation process. These unforgettable stones actually start their life as a fibrous blue mineral known as crocidolite (asbestos), which is comprised of iron and sodium. Quartz becomes imbedded between the fibres of the crocidolite to create the outstanding patterns that Tiger's Eye's are famous for.
Optical Features
Tiger's eye quartz composite measures 7 on the Mohs scale, so these gems are rather durable and well suited to jewellery. The optical properties are extremely important in the identification and distinction of tiger's eye – its chatoyancy (as described above) is responsible for all its outstanding features, including colour, brilliance, lustre, scintillation and dispersion.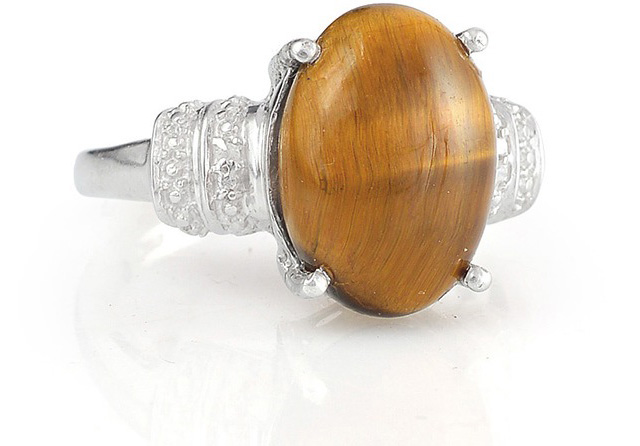 Conclusion
Unlike the sparkly glitter of other varieties of the gem family, tiger's eye has a more sensual, earthy quality that is akin to the elegance, fire and uniquely beautiful coat of tigers. In addition, their unique chatoyant effect lends to an outstandingly rich play of light as with the eyes of felines.
Gem Specs
Colour
Golden, Honey, Brown, Red
Crystal Structure
Trigonal
Sources
South Africa, Australia, Sri Lanka, India, Brazil and USA
Tiger's Eye Buyers Tips
This golden gemstone with 7 moh's hardness is widely available, affordable and popular among the gemstones lovers.
Tiger's eye stones display a brilliant and silky tiger eye effect.