Sapphire
Sapphire Stone
Say hello to the gemstone favoured by royals the world over. The regal sapphire stone is the star of Kate Middleton's engagement ring, and has been coveted for centuries for its rich blue hues. Although famous for it's supreme blue colour, sapphires are actually found in a whole spectrum of shades including red, yellow, black and even clear.
Origin & Supply of Sapphire
The word sapphire is thought to originate from the Greek name 'sappheiros', meaning 'blue stone'. The gem is part of the mineral corundum family, which is harder than most other stones - it is only exceeded in strength by diamonds. Sapphires are found naturally within earth sediment and rock formations. Some of the main mining locations include the world's leading producer Madagascar, as well as Sri Lanka, Australia, Burma, China, Kenya and many more.
Optical Features
As part of the corundum family of minerals, the term sapphire indicates the blue variety. Any other colour, except for red - in which case the gemstone is then a ruby - will have a prefix, such as 'yellow sapphire'. Trace amounts of other elements such as iron, titanium, or chromium give sapphires their alternate colours.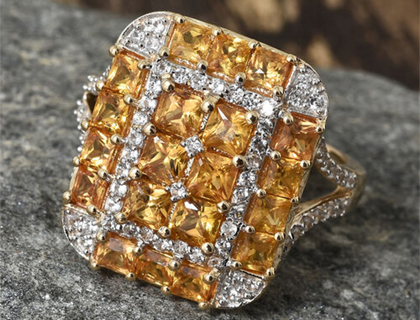 Other Variations
Corundum, White Sapphire, Bi-Colour Sapphire, Pink Sapphire
Gem Specs
Colour
Blue, Pink, Orange, Yellow, Green, Purple, Black
Crystal Structure
Trigonal
Sources
Sri Lanka, Africa, Tanzania, Australia, USA, China, India and Brazil