Meet our Presenter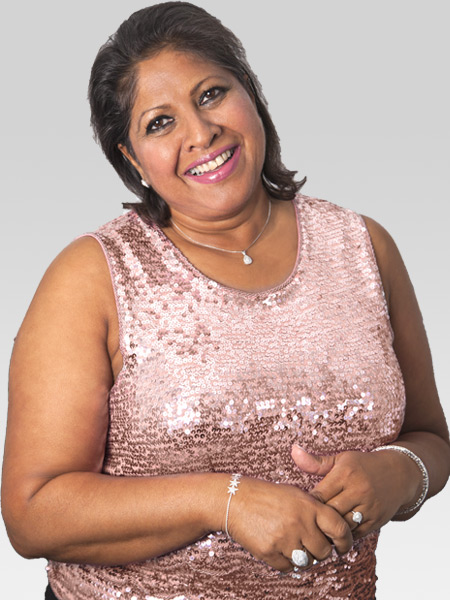 Vicki Browne
Vicki brings a great deal of interactive shopping and terrestrial television expertise to The Jewellery Channel, and so much more. Known as the "Dinner Party Diva" always throwing extravagant dinner parties and charity themed parties; from Bond nights to large scale Bollywood Events. The money she raises goes towards running her family owned eye hospital/charity in India called "NIRDOSH" where they give free cataract eye operations to blind children. Affectionately known as the Queen of Sparkle, Vicki loves to travel and collect things wherever she goes specially jewellery - being Indian she has a natural passion for jewels and recipes. When not skiing high mountains or jumping out of planes, working on the Jewellery Channel is the perfect job for her as she loves jewellery and loves shopping!
What is your favourite gemstone?
I love the Colombian emerald with its exotic and magical properties and I love the way it looks on my skin.
If you could sum up your look and aesthetic in three words, what would they be?
The Queen of Sparkle – of course!
Any fashion or jewellery tips?
A simple one - Sparkle from morning to night!
Can you reveal a secret about a fellow TJC presenter?
Derek wears ladies pants.
Any embarrassing on-screen moments?
Cutting the cake for TJC's 2nd birthday – I practically chopped off my finger while smiling at the camera – ouch!
free delivery by 9, Mar 2021

free delivery by 9, Mar 2021

free delivery by 9, Mar 2021

free delivery by 9, Mar 2021

free delivery by 9, Mar 2021

free delivery by 9, Mar 2021

free delivery by 9, Mar 2021

free delivery by 9, Mar 2021

free delivery by 9, Mar 2021

free delivery by 9, Mar 2021