Personalised Engraved Infinity Necklace in Sterling Silver
Product Highlights
A GIFT THAT WILL BE REMEMBERED FORVER -A symbol of eternity and true love, the infinity silhouette makes the necklace a truly meaningful piece of jewellery
GET A NECKLACE WITH CUSTOMTIZED SIZE - You don't have to give up your dream for layering, by picking the right length from the chart you can wear this chained necklace with your other neck jewellery
ENGRAVING - If you pick the right word or a phrase, the pendant necklace will help you to create a desired persona
DURABILITY - When you plan a piece like this you would definitely want to wear it again and again, and so we crafted it in highly robust sterling silver which will never loose its shape or shimmer
Product Highlights
A GIFT THAT WILL BE REMEMBERED FORVER -A symbol of eternity and true love, the infinity silhouette makes the necklace a truly meaningful piece of jewellery
GET A NECKLACE WITH CUSTOMTIZED SIZE - You don't have to give up your dream for layering, by picking the right length from the chart you can wear this chained necklace with your other neck jewellery
ENGRAVING - If you pick the right word or a phrase, the pendant necklace will help you to create a desired persona
DURABILITY - When you plan a piece like this you would definitely want to wear it again and again, and so we crafted it in highly robust sterling silver which will never loose its shape or shimmer
Details
https://www.tjc.co.uk/necklaces/personalised-engraved-infinity-necklace-in-silver-D10053.html
Product Actions
Product Highlights
A GIFT THAT WILL BE REMEMBERED FORVER -A symbol of eternity and true love, the infinity silhouette makes the necklace a truly meaningful piece of jewellery
GET A NECKLACE WITH CUSTOMTIZED SIZE - You don't have to give up your dream for layering, by picking the right length from the chart you can wear this chained necklace with your other neck jewellery
ENGRAVING - If you pick the right word or a phrase, the pendant necklace will help you to create a desired persona
DURABILITY - When you plan a piece like this you would definitely want to wear it again and again, and so we crafted it in highly robust sterling silver which will never loose its shape or shimmer
Product Details
Size

20 Inch

Color

Silver

Style

Chain Necklace, Charm Necklace

Product Code

D10053

Metal Name

Metal Karatage

925

Metal Type

Silver

Type

message jewellery

Length

20INCH

Height

1CM

Fine Jewellery

Yes
Product Description
Wear a look of novelty in the form of this Personalised Engraved Infinity Necklace in Silver that shimmers in the white gloss of silver. You can gift it someone by engraving their name onto this necklace in a captivating font. Silver touch on this necklace offers a rich white flicker that is protected for a long time by the anti-tarnish gift box that comes in dark shade.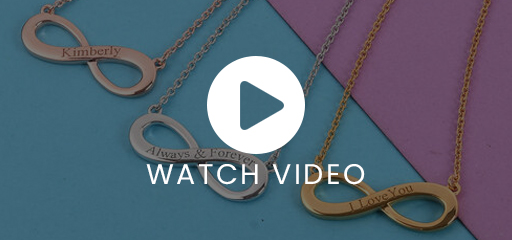 Know More about Personalise Engraved Infinity Necklace
Wear forever filled with the promose of love and laughter with this beautiful infinity necklace. Made in sterling silver, it can be plated with the metal tone of your choice. You can also engrave it to say the perfect words. Don't wait, get customising!
METALLIC TONE OPTIONS -Are you mesmerised by the shimmer of rose gold or does luxurious yellow gold make your heart beat? Choose a finishing that speaks to you from our chart
GLOSSY FINISH - Both the pendant and the cable chain are finished with a glossy touch for a greater shimmer and comfort of wearing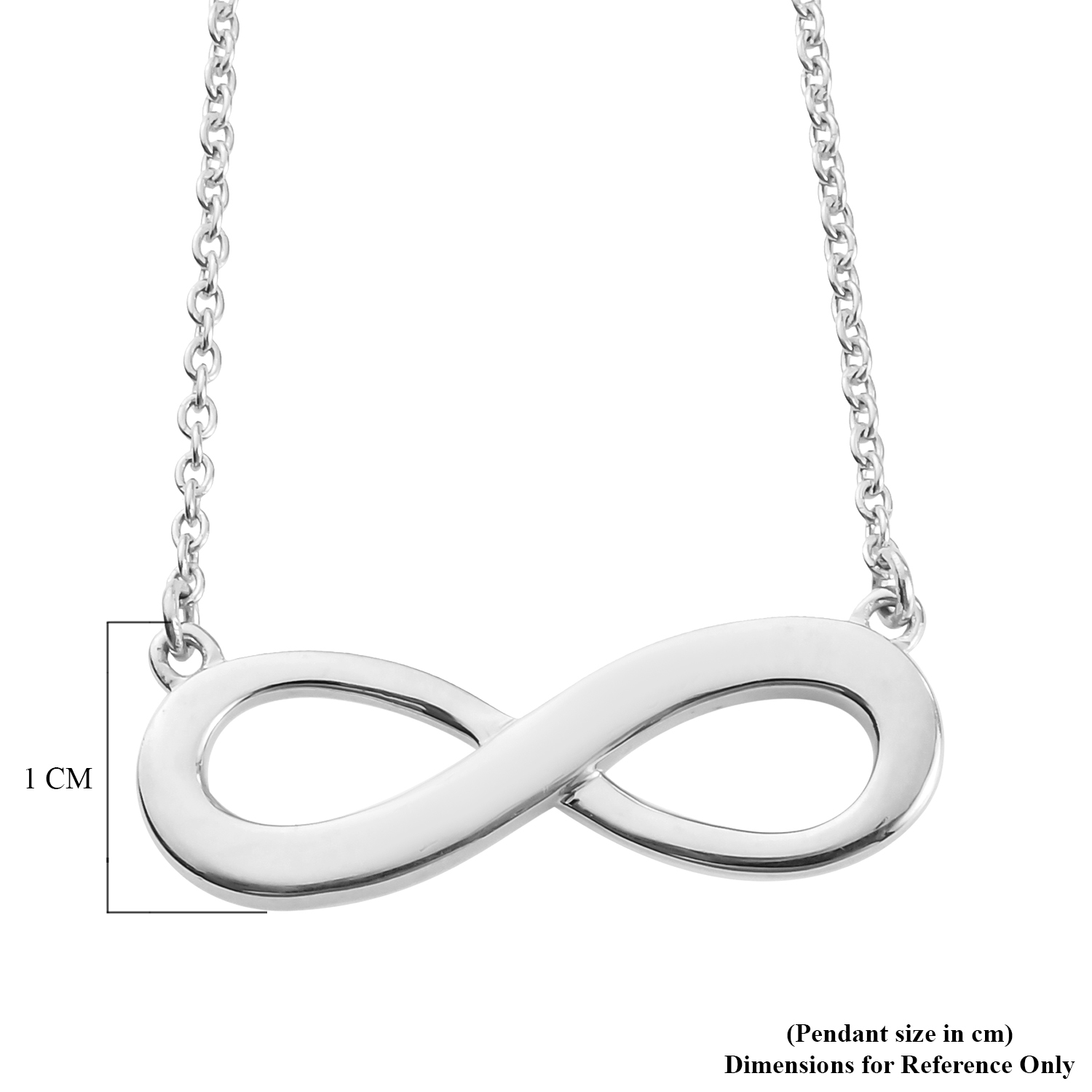 Looks stunning sparkling on your graceful neckline, offering an incredible customised shine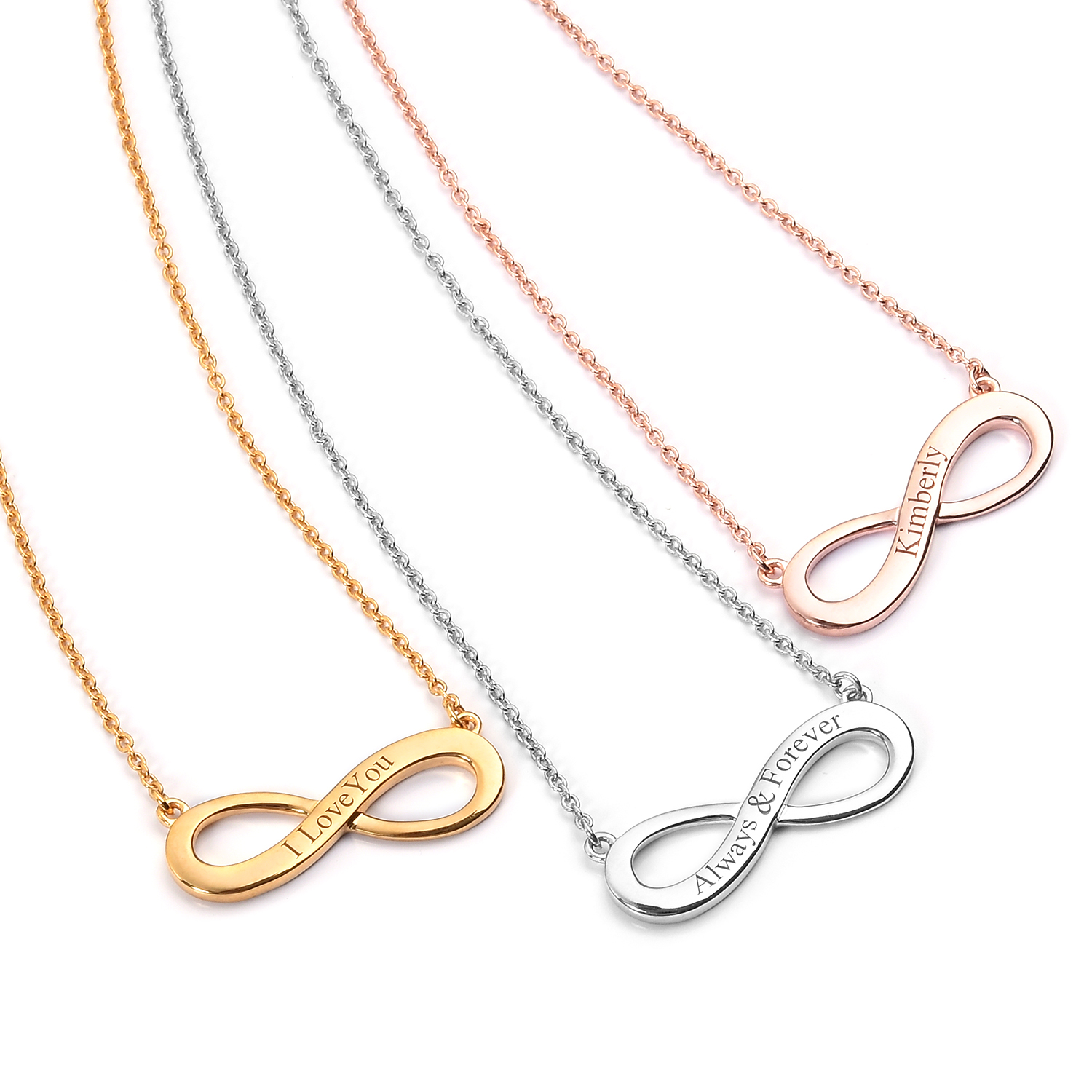 Shine of sterling silver is irresistible and lasts beyond a lifetime, making this a perfect present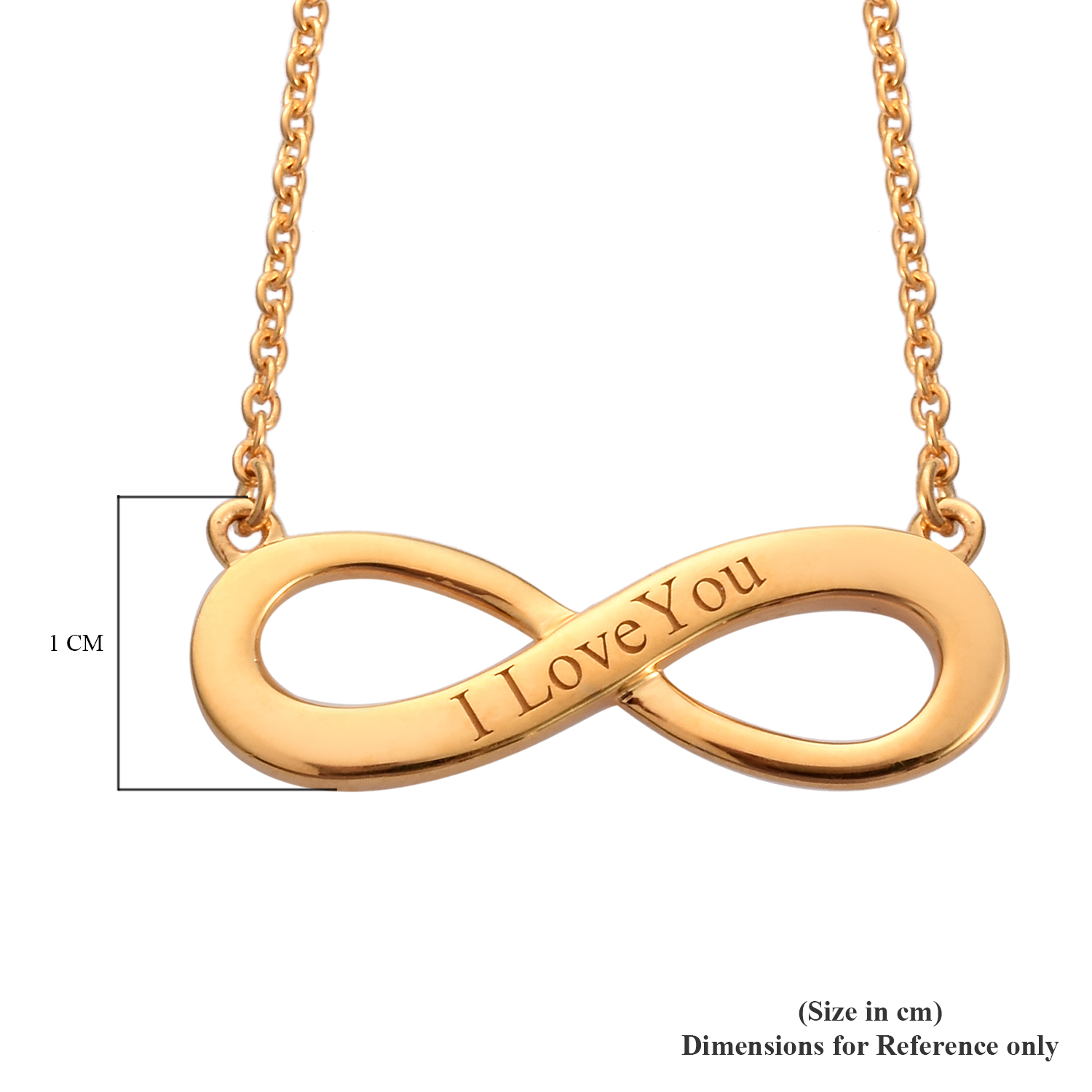 Comfortable size of 1 cms that falls perfectly at your neckline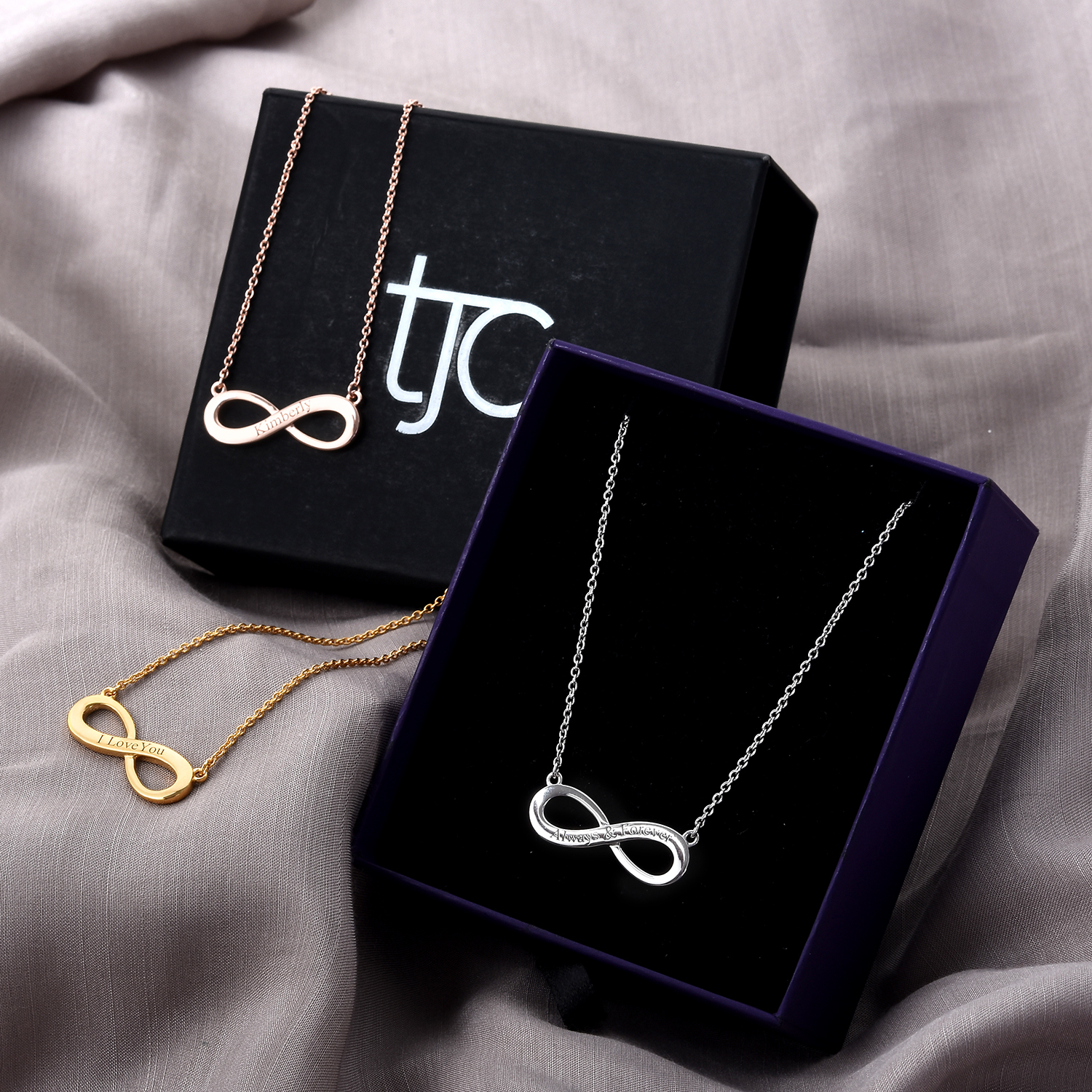 Comes with a box that can be used for gifting as well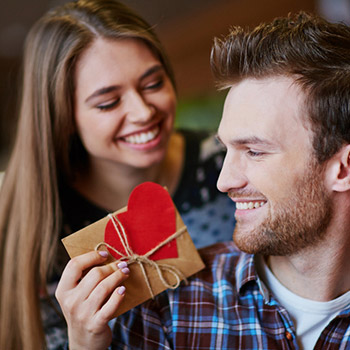 Perfect gift for her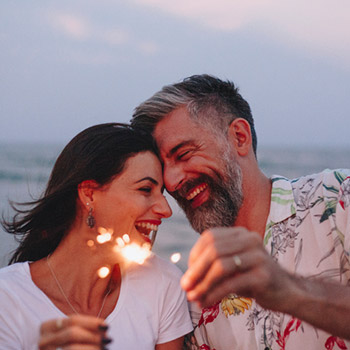 An ideal gift for anniversaries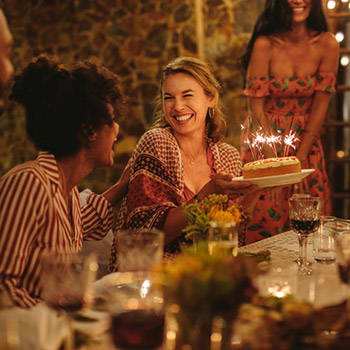 A wish of a special occasion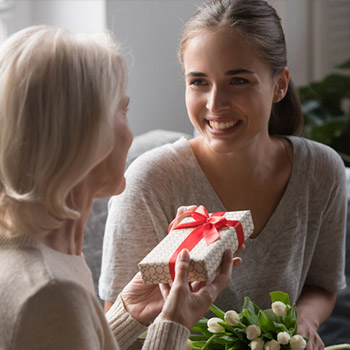 Or just to say that you're special