Serenity Night Electric Faux Fur Fleece Sherpa Blanket with Detachable Connector - Grey
Product Highlights
WARM AND COSY: This heat blanket is what you need to combat the cold winters to keep yourself all warm and comfortable
FAUX FUR: The faux fleece fabric covers the top piece of the blanket, giving it a cosy appearance while also trapping heat inside
SHERPA MATERIAL: The warm Sherpa material is used in the underside of the blanket and keeps you snug, as well as being incredibly soft against your skin, providing a comfortable experience as you surround yourself
QUICK WARMTH:A connector appended to the blanket quickly warms the blanket, allowing you to cover yourself and get relief from the cold, and you can also detach it when not in use
EASY MAINTENANCE: The size of this electric blanket is 160x130 cm, making it perfect for your bedroom or living room. Because the blanket is made of washable fabric, it is simple to care
Product Highlights
WARM AND COSY: This heat blanket is what you need to combat the cold winters to keep yourself all warm and comfortable
FAUX FUR: The faux fleece fabric covers the top piece of the blanket, giving it a cosy appearance while also trapping heat inside
SHERPA MATERIAL: The warm Sherpa material is used in the underside of the blanket and keeps you snug, as well as being incredibly soft against your skin, providing a comfortable experience as you surround yourself
QUICK WARMTH:A connector appended to the blanket quickly warms the blanket, allowing you to cover yourself and get relief from the cold, and you can also detach it when not in use
EASY MAINTENANCE: The size of this electric blanket is 160x130 cm, making it perfect for your bedroom or living room. Because the blanket is made of washable fabric, it is simple to care

4 Instalments of £14.99
Product Highlights
WARM AND COSY: This heat blanket is what you need to combat the cold winters to keep yourself all warm and comfortable
FAUX FUR: The faux fleece fabric covers the top piece of the blanket, giving it a cosy appearance while also trapping heat inside
SHERPA MATERIAL: The warm Sherpa material is used in the underside of the blanket and keeps you snug, as well as being incredibly soft against your skin, providing a comfortable experience as you surround yourself
QUICK WARMTH:A connector appended to the blanket quickly warms the blanket, allowing you to cover yourself and get relief from the cold, and you can also detach it when not in use
EASY MAINTENANCE: The size of this electric blanket is 160x130 cm, making it perfect for your bedroom or living room. Because the blanket is made of washable fabric, it is simple to care
Product Details
Brand

serenity

Material

Polyester

Colour

Grey

Dimensions

160x130 cm

Product Code

3879867

Type

blanket

Care Instructions

Hand Wash, Machine Wash

Benefits

Keeps You Warm and Cozy, Softness and breathability

Material Percentage

100% Polyester

Assembly Required

No

Special Feature

Breathable, Durable, Eco Friendly, Light-Weight, Multi Purpose, Soft Material, Ultra Soft
Product Description

This Heated Electric Blanket is perfect for those cold evenings when you just want to snuggle up on the sofa or settle down in bed for the night, thanks to its incredibly soft touch faux fur fleece material. With its simple digital control, the heated electric blanket is one of the most advanced heated throws on the market. The heated electric blanket will have you snuggled up at the perfect temperature in no time, with an ultra-fast heat-up time and a choice of 6 different temperature settings.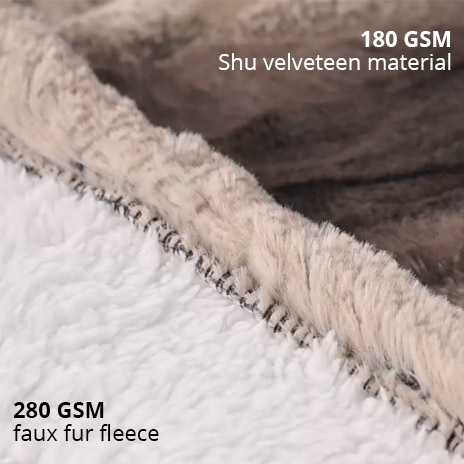 This sherpa fleece throw blanket is made of 220 GSM faux fur fleece front and 180 GSM 180gsm Shu velveteen reverse, which would offer you optimal warm comfort. You can use it all season, especially in winter to keep you warm on a cold day.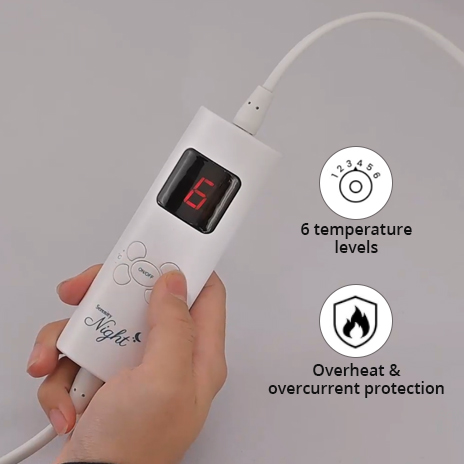 LED Digital detachable control comes with 6 temperature settings and an auto shut off timer, so you can just set it and forget it. This heated throw has a built-in overheat and overcurrent protection system, which will automatically turn off the blanket if it overheats.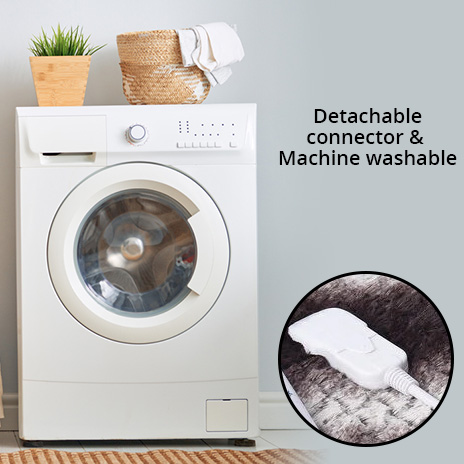 The controller is detachable, which allows you to wash this blanket in a machine at low temperatures or by hand, so you can keep your electric throw clean and hygienic.