100% Cotton Filled Thick Rope Cotton Rope String for Arm Knitting, Knitting Blanket, Rugs, Scarfs, Craft, Gardening, Wrapping, Decoration - Beige
Product Highlights
YOUR CREATIVE SIDE: Put your creative foot forward with this rope style yarn that is just the perfect material to bring your imaginations to life and 'knit' items like blankets, throws, stoles, scarves, baskets, etc. infact anything!
COMFORTABLE MATERIAL: A polyester exterior of the rope style yarn is filled inside with comfortable cotton and both are extremely gentle on your skin
BENEFITS OF THE MATERIAL: Polyester is known to be extremely durable as it retains its shape and is moisture-wicking while cotton is soothing and calming
COIL DESIGN: The 16 metres yarn is wound in a ball and is 2.5 cm thick allows you to work plainly with just your hands and 'knit' your idea
SEAMLESS PERFORMANCE: Knit your way through your designs without the need and use of any needles, pins and threads fuss free with just your hands
Product Highlights
YOUR CREATIVE SIDE: Put your creative foot forward with this rope style yarn that is just the perfect material to bring your imaginations to life and 'knit' items like blankets, throws, stoles, scarves, baskets, etc. infact anything!
COMFORTABLE MATERIAL: A polyester exterior of the rope style yarn is filled inside with comfortable cotton and both are extremely gentle on your skin
BENEFITS OF THE MATERIAL: Polyester is known to be extremely durable as it retains its shape and is moisture-wicking while cotton is soothing and calming
COIL DESIGN: The 16 metres yarn is wound in a ball and is 2.5 cm thick allows you to work plainly with just your hands and 'knit' your idea
SEAMLESS PERFORMANCE: Knit your way through your designs without the need and use of any needles, pins and threads fuss free with just your hands
Was £14.99 , You Save 20%

4 Instalments of £2.99
Product Highlights
YOUR CREATIVE SIDE: Put your creative foot forward with this rope style yarn that is just the perfect material to bring your imaginations to life and 'knit' items like blankets, throws, stoles, scarves, baskets, etc. infact anything!
COMFORTABLE MATERIAL: A polyester exterior of the rope style yarn is filled inside with comfortable cotton and both are extremely gentle on your skin
BENEFITS OF THE MATERIAL: Polyester is known to be extremely durable as it retains its shape and is moisture-wicking while cotton is soothing and calming
COIL DESIGN: The 16 metres yarn is wound in a ball and is 2.5 cm thick allows you to work plainly with just your hands and 'knit' your idea
SEAMLESS PERFORMANCE: Knit your way through your designs without the need and use of any needles, pins and threads fuss free with just your hands
Product Details
Material

Cotton

Colour

Beige

Dimensions

760 cm

Product Code

6006451

Type

filling Rope

Special Feature

All summer long, Flexible, Lightweight, YARNdiameter 2.5cm
Product Description
Expand your creative horizons with this yarn ball. The chunky polyester yarn allows you to weave new things every day. Is it going to be a blanket, a floormat, or a basket, it's up to you! Enjoy easy, quick, and colourful DIY with this lightweight range.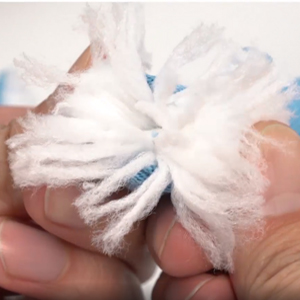 Light in weight, however, strong in its making, this chunky yarn is made of polyester and its inside is filled with cotton fibre. This makes sure that you yarn is cool in summer but warm durin winter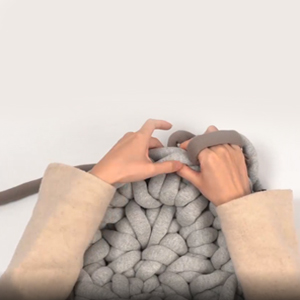 Forget the worries of carrying knitting needles and pins! This yarn is chunky and thick, so you can knit using just your arms! This thick fabric allows quick knitting!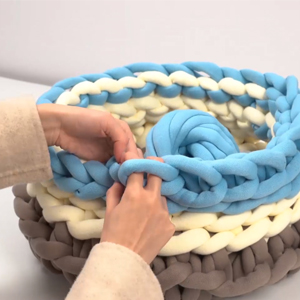 Wish for a colourful product? It's easy! All you need to do is attach the different colours to an end and keep on knitting! Enjoy all colours in a single design, vry easily!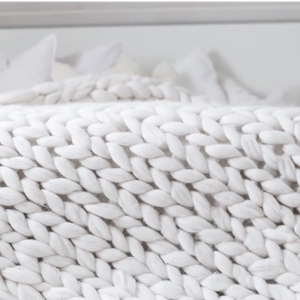 16 metres long and 2.5 cms thick, this is snuggly and you're sure going to love whatever you make with it!