Homesmart K4H Mini Portable Projector
Product Highlights
BUDGETPAY AVAILABLE: Enjoy interest 4 interest-free instalment on your purchase. Make best of ease in shopping, so buy now and keep paying later!
FULL ON ENTERTAINMENT: With this portable gadget in your possession, now entertainment can be enjoyed anywhere and anytime, bringing excitement
HIGH QUALITY RESOLUTION: The projector provides a high quality resolution of 4K with a superb home theatre experience
WIRELESS: The fuss free wireless design makes the projector portable and allows you to move it from room to room with ease as per your comfort and mood
COMPACT DESIGN: The projector needs to be mounted on a tripod stand and you are ready to use without needing more and accessories to help in installation
COMPATIBILITY: The projector can be easily connected to iOS and Android devices with the WIFI and Bluetooth connectivity
VERSATILE: Connect your gaming console, SD card, pen drive, TV, etc. all to this projector to a fun time with your family and friends
Product Highlights
BUDGETPAY AVAILABLE: Enjoy interest 4 interest-free instalment on your purchase. Make best of ease in shopping, so buy now and keep paying later!
FULL ON ENTERTAINMENT: With this portable gadget in your possession, now entertainment can be enjoyed anywhere and anytime, bringing excitement
HIGH QUALITY RESOLUTION: The projector provides a high quality resolution of 4K with a superb home theatre experience
WIRELESS: The fuss free wireless design makes the projector portable and allows you to move it from room to room with ease as per your comfort and mood
COMPACT DESIGN: The projector needs to be mounted on a tripod stand and you are ready to use without needing more and accessories to help in installation
COMPATIBILITY: The projector can be easily connected to iOS and Android devices with the WIFI and Bluetooth connectivity
VERSATILE: Connect your gaming console, SD card, pen drive, TV, etc. all to this projector to a fun time with your family and friends
Was £289.99 , You Save 14%

3 Instalments of £83.33
Details
https://www.tjc.co.uk/accessories/homesmart-k4h-mini-portable-projector-6007121.html
Product Actions
Product Highlights
BUDGETPAY AVAILABLE: Enjoy interest 4 interest-free instalment on your purchase. Make best of ease in shopping, so buy now and keep paying later!
FULL ON ENTERTAINMENT: With this portable gadget in your possession, now entertainment can be enjoyed anywhere and anytime, bringing excitement
HIGH QUALITY RESOLUTION: The projector provides a high quality resolution of 4K with a superb home theatre experience
WIRELESS: The fuss free wireless design makes the projector portable and allows you to move it from room to room with ease as per your comfort and mood
COMPACT DESIGN: The projector needs to be mounted on a tripod stand and you are ready to use without needing more and accessories to help in installation
COMPATIBILITY: The projector can be easily connected to iOS and Android devices with the WIFI and Bluetooth connectivity
VERSATILE: Connect your gaming console, SD card, pen drive, TV, etc. all to this projector to a fun time with your family and friends
Product Details
Brand

homesmart

Material

Aluminum

Colour

Silver & Black

Product Code

6007121

Device

All Computer

Features

Accessories: Cloth bag X1 + Charger X1 + Remote control (without battery) X1 + HDMI cable X1 + Holder X1, Battery: 4000mAH, Curved Screen Coverage, Scratch-free, Size:145*53*28.5mm
Product Description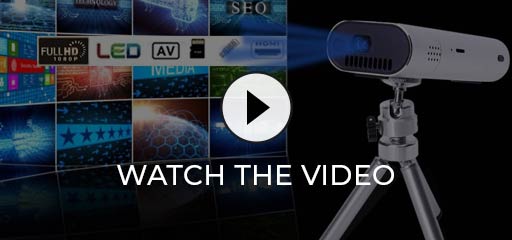 Now take your entertainment anywhere and enjoy as per your desire. This projector is extremely compact and can be connected to your devices with a WIFI or Bluetooth feature. You can also insert a pen drive, SD card to view photographs. The projector is compatible with all iOS and android devoices along with your gaming consoles to provide a high resolution 4K experience. Mounted on a small tripod, the projector will be your mate wherever you go.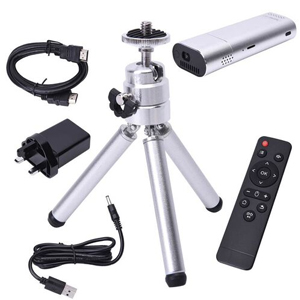 Accessories provided with this projector allow you to use as per your need.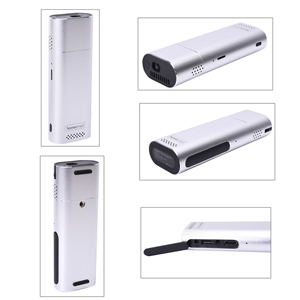 Sleek design of the projector has ports on the side for attaching your USB cable, insert a SD card, etc.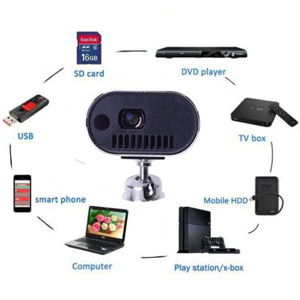 Multi-functional, thus projector will connect to your laptop, pen drive, TV, phone, game console, etc. and give you refreshing recreational experience.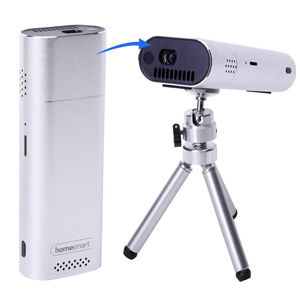 Secure the projector onto the tripod stand and enjoy your evenings and weekends.