3.50 Carat Solitaire White Topaz Earrings and Pendant Set in Platinum Plated Sterling Silver with Stainless Steel Chain - April Birthstone
Product Highlights
GEMSTONE DETAILS: An April Birthstone White Topaz pendant set with a finish of a round faceted cut. The total purity of this fine pendant set is 3.5ct.
GEMSTONE QUALITIES: White Topaz is also called Silver Topaz due to its sparkling and brilliant lustre. This white topaz gemstone is made from silicate and is translucent in its purest form. Oval and round cut stones are popular as the light hitting them spark the stone. These cuts make it appear like a diamond
METAL TYPE: Crafted in Sterling silver, this pendant and earring set is platinum plated. The total metal weight is 5.35 grams and 3 gemstones of round faceted cut are embedded into it
METAL STYLE: This jewellery is beautifully made in single solitaire pendant and dangler style earrings set with fine jewellery finish of bezel setting. A chain of stainless steel with platinum plating is included with the set
HOW TO STYLE: Being a light weighted everyday fashionable piece it can be styled effortlessly. The earrings come in a dangler pattern, easy to use and remove. The chain is 20 inches and sits perfectly between collarbone and bustling. You can team it up with a summer floral dress or a black top and denim to make it a style statement
GIFTING: This pendant set is a great choice for gifting to every age of woman, be it your mother, sister, friend, or your partner on occasions like birthdays, anniversaries etc
Product Highlights
GEMSTONE DETAILS: An April Birthstone White Topaz pendant set with a finish of a round faceted cut. The total purity of this fine pendant set is 3.5ct.
GEMSTONE QUALITIES: White Topaz is also called Silver Topaz due to its sparkling and brilliant lustre. This white topaz gemstone is made from silicate and is translucent in its purest form. Oval and round cut stones are popular as the light hitting them spark the stone. These cuts make it appear like a diamond
METAL TYPE: Crafted in Sterling silver, this pendant and earring set is platinum plated. The total metal weight is 5.35 grams and 3 gemstones of round faceted cut are embedded into it
METAL STYLE: This jewellery is beautifully made in single solitaire pendant and dangler style earrings set with fine jewellery finish of bezel setting. A chain of stainless steel with platinum plating is included with the set
HOW TO STYLE: Being a light weighted everyday fashionable piece it can be styled effortlessly. The earrings come in a dangler pattern, easy to use and remove. The chain is 20 inches and sits perfectly between collarbone and bustling. You can team it up with a summer floral dress or a black top and denim to make it a style statement
GIFTING: This pendant set is a great choice for gifting to every age of woman, be it your mother, sister, friend, or your partner on occasions like birthdays, anniversaries etc
Was £29.99 , You Save 15%

4 Instalments of £6.37
Details
https://www.tjc.co.uk/jewellery-sets/2-piece-set---white-topaz-pendant-hook-earrings-in-platinum-overlay-sterling-silver-with-stainless-steel-chain-size20-silver-wt.-5.54-gms-4092843.html
Product Actions
Product Highlights
GEMSTONE DETAILS: An April Birthstone White Topaz pendant set with a finish of a round faceted cut. The total purity of this fine pendant set is 3.5ct.
GEMSTONE QUALITIES: White Topaz is also called Silver Topaz due to its sparkling and brilliant lustre. This white topaz gemstone is made from silicate and is translucent in its purest form. Oval and round cut stones are popular as the light hitting them spark the stone. These cuts make it appear like a diamond
METAL TYPE: Crafted in Sterling silver, this pendant and earring set is platinum plated. The total metal weight is 5.35 grams and 3 gemstones of round faceted cut are embedded into it
METAL STYLE: This jewellery is beautifully made in single solitaire pendant and dangler style earrings set with fine jewellery finish of bezel setting. A chain of stainless steel with platinum plating is included with the set
HOW TO STYLE: Being a light weighted everyday fashionable piece it can be styled effortlessly. The earrings come in a dangler pattern, easy to use and remove. The chain is 20 inches and sits perfectly between collarbone and bustling. You can team it up with a summer floral dress or a black top and denim to make it a style statement
GIFTING: This pendant set is a great choice for gifting to every age of woman, be it your mother, sister, friend, or your partner on occasions like birthdays, anniversaries etc
Product Details
Size

20 Inch

Colour

White

Style

Dangle Earring, Solitaire Pendant

Product Code

4092843

Number of Gemstones

3

Total Gem Weight

3.500ct.

Metal Name

Metal Weight

5.350

Metal Karatage

Mix

Metal Type

Mix

Type

Web Exclusive

Plating

14K Yellow Gold

Fine Jewellery

Yes

Fashion Jewellery

Yes

Primary Gem weight

1.532

Gender

Female

Main Stone Name

topaz

Shape

Round
Stone Details
White Topaz Round 7mmmm Faceted Cut

Qty: 1 Weight: 1.530ct.

White Topaz Round 6mmmm Faceted Cut

Qty: 2 Weight: 1.970ct.
Product Description

Show your love with this elegantly crafted set of solitaire pendant and hook earrings. Glittering April Birthstone White Topaz gemstone is crowned at the centre of this classic set of a pendant and earrings. Inspired by the solitaire theme, this stylish set in platinum-plated sterling silver is the one you need to complete your look for a happening day or evening.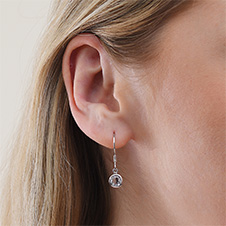 Solitaire symbolises devotion and commitment. It is a sign of eternal love and faithfulness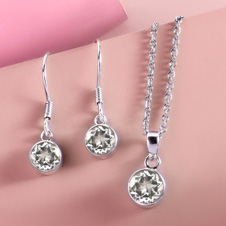 The bezel setting offers its firm grip to keep the gemstones in place for a flawless shine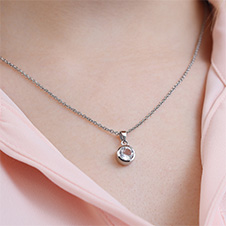 The jewelry set is forged in platinum plated sterling silver. The metal is known for its natural elegance and durability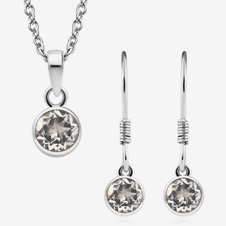 Let these earrings and pendant set be the enchanting companions to all of those apparels in your wardrobe