Serenity Night Electric Faux Fur Fleece Washable Sherpa Blanket with Detachable Connector for Bed -Beige
Product Highlights
GIVES YOU THE GREATEST COMFORT - Winters will no longer be chilly and harsh when you cover yourself in this warm and cosy blanket
SOFTNESS PAR EXCELLENCE - Soothing faux fur material of the blanket caters an extraordinary softness
SHEPRA UNDER LAYER - The bottom layer of the blanket consist of Sherpa fabric which is effective in stopping your body's heat from dissipating
WITH HEAT GENERATING CONNECTOR - The device offered with the blanket quickly adds warmth to your body by heating it for you; it has 6 temperature settings to ensure you can control the heat according to your needs and an overheat protection too
SIZE - The blanket comes in the perfect size of 160 x 130 cm suitable for laying over your chair, sofa and any other piece of furniture
WASHABLE AT HOME - You can easily wash the blanket at home with no tumble dry setting and temperature below 30 degrees
Product Highlights
GIVES YOU THE GREATEST COMFORT - Winters will no longer be chilly and harsh when you cover yourself in this warm and cosy blanket
SOFTNESS PAR EXCELLENCE - Soothing faux fur material of the blanket caters an extraordinary softness
SHEPRA UNDER LAYER - The bottom layer of the blanket consist of Sherpa fabric which is effective in stopping your body's heat from dissipating
WITH HEAT GENERATING CONNECTOR - The device offered with the blanket quickly adds warmth to your body by heating it for you; it has 6 temperature settings to ensure you can control the heat according to your needs and an overheat protection too
SIZE - The blanket comes in the perfect size of 160 x 130 cm suitable for laying over your chair, sofa and any other piece of furniture
WASHABLE AT HOME - You can easily wash the blanket at home with no tumble dry setting and temperature below 30 degrees

5 Instalments of £7.99
Easy 30 days returns
If you are not fully satisfied with your purchase, you can return it within 30 days from Date of Dispatch. KNOW MORE
100% secure checkout
Available payment options.
Your Purchase Feeds
For every single item ordered by you, we donate a meal to a hungry child in India and UK. KNOW MORE
Product Highlights
GIVES YOU THE GREATEST COMFORT - Winters will no longer be chilly and harsh when you cover yourself in this warm and cosy blanket
SOFTNESS PAR EXCELLENCE - Soothing faux fur material of the blanket caters an extraordinary softness
SHEPRA UNDER LAYER - The bottom layer of the blanket consist of Sherpa fabric which is effective in stopping your body's heat from dissipating
WITH HEAT GENERATING CONNECTOR - The device offered with the blanket quickly adds warmth to your body by heating it for you; it has 6 temperature settings to ensure you can control the heat according to your needs and an overheat protection too
SIZE - The blanket comes in the perfect size of 160 x 130 cm suitable for laying over your chair, sofa and any other piece of furniture
WASHABLE AT HOME - You can easily wash the blanket at home with no tumble dry setting and temperature below 30 degrees
Product Details
Brand

serenity night

Material

Polyester

Colour

Brown

Dimensions

150x130 cm

Product Code

3634937

Type

blanket

Care Instructions

Hand Wash, Machine Wash

Benefits

Keeps You Warm and Cozy, Softness and breathability

Material Percentage

100% Polyester

Assembly Required

No

Gender

Unisex

Special Feature

Breathable, Detachable Connector, Durable, Eco Friendly, Light-Weight, Multi Purpose, Soft Material, Washable Fabric
Product Description

This Heated Electric Blanket is perfect for those cold evenings when you just want to snuggle up on the sofa or settle down in bed for the night, thanks to its incredibly soft touch faux fur fleece material. With its simple digital control, the heated electric blanket is one of the most advanced heated throws on the market. The heated electric blanket will have you snuggled up at the perfect temperature in no time, with an ultra-fast heat-up time and a choice of 6 different temperature settings.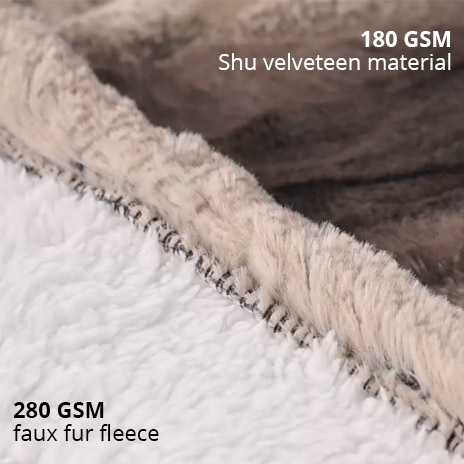 This sherpa fleece throw blanket is made of 220 GSM faux fur fleece front and 180 GSM 180gsm Shu velveteen reverse, which would offer you optimal warm comfort. You can use it all season, especially in winter to keep you warm on a cold day.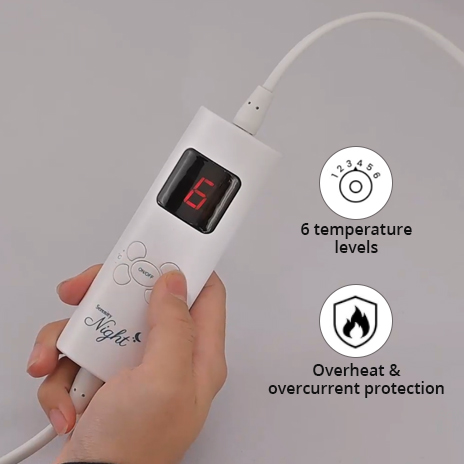 LED Digital detachable control comes with 6 temperature settings and an auto shut off timer, so you can just set it and forget it. This heated throw has a built-in overheat and overcurrent protection system, which will automatically turn off the blanket if it overheats.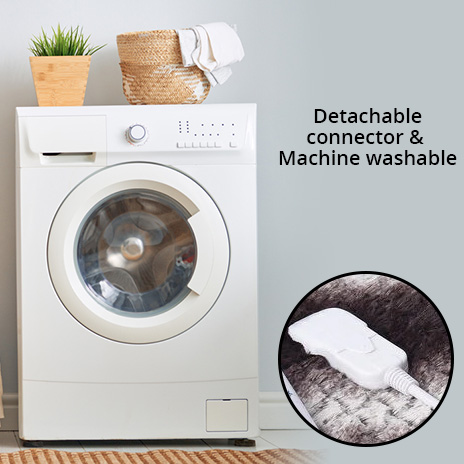 The controller is detachable, which allows you to wash this blanket in a machine at low temperatures or by hand, so you can keep your electric throw clean and hygienic.