9K Yellow Gold AAA Japanese Akoya Pearl Ball Stud Earrings
Product Highlights
DESIGN: The beautiful Akoya pearl earrings of AAA quality are designed in a ball stud pattern which can also be called Solitaire pearl earrings. They are crafted to precision in a round cut robust setting in 9k yellow gold accompanied with push back closures
ALL ABOUT AKOYA PEARLS: These 9k gold pearl earrings are cultured in Pincdata Fucata oysters also known as Akoya oysters. These precious pearls come from Japan. These pearls are classic and known for their high lustre. They are very clean and smooth in complexion and come in various shades of white to pink. The colour and uniformity of Japanese Akoya make them a popular option for a woman's first pearl stud earrings
9K GOLD: The solitaire pearl earrings are crafted in 9k yellow gold. It is highly durable and adds a warm colour to the pearl earrings online
WEIGHT: Two Japanese Akoya pearls of 2.6ct and 5-6mm faceted round cut are used in these pearl gold earrings. The height of each pearl is around 0.6cm with a total of 0.36 grams of 9k yellow gold
SIGNIFICANCE OF PEARL EARRINGS: Pearls are referred to as "new diamonds" as they have been a great choice by women and men too. The pearls online have become a gender-fluid gem embarking sophistication and symbol of status. Pearl wearer reflects a soft side maintaining an incredible strength. Recently many celebrities have been seen using this exceptional piece of the gem at red carpet events. Wearing pearls brings a lot of positive benefits to one's life and strengthens their mind
HOW TO CARE FOR YOUR PEARLS: Wipe down your pearls after wearing them with a sofa soft cloth to remove any undesirable residues. Avoid subjecting them to excessive heat e.g. sunlight. Do not apply chemical products while wearing the jewellery
Product Highlights
DESIGN: The beautiful Akoya pearl earrings of AAA quality are designed in a ball stud pattern which can also be called Solitaire pearl earrings. They are crafted to precision in a round cut robust setting in 9k yellow gold accompanied with push back closures
ALL ABOUT AKOYA PEARLS: These 9k gold pearl earrings are cultured in Pincdata Fucata oysters also known as Akoya oysters. These precious pearls come from Japan. These pearls are classic and known for their high lustre. They are very clean and smooth in complexion and come in various shades of white to pink. The colour and uniformity of Japanese Akoya make them a popular option for a woman's first pearl stud earrings
9K GOLD: The solitaire pearl earrings are crafted in 9k yellow gold. It is highly durable and adds a warm colour to the pearl earrings online
WEIGHT: Two Japanese Akoya pearls of 2.6ct and 5-6mm faceted round cut are used in these pearl gold earrings. The height of each pearl is around 0.6cm with a total of 0.36 grams of 9k yellow gold
SIGNIFICANCE OF PEARL EARRINGS: Pearls are referred to as "new diamonds" as they have been a great choice by women and men too. The pearls online have become a gender-fluid gem embarking sophistication and symbol of status. Pearl wearer reflects a soft side maintaining an incredible strength. Recently many celebrities have been seen using this exceptional piece of the gem at red carpet events. Wearing pearls brings a lot of positive benefits to one's life and strengthens their mind
HOW TO CARE FOR YOUR PEARLS: Wipe down your pearls after wearing them with a sofa soft cloth to remove any undesirable residues. Avoid subjecting them to excessive heat e.g. sunlight. Do not apply chemical products while wearing the jewellery
Was £99.99 , You Save 20%

3 Instalments of £26.66
Details
https://www.tjc.co.uk/earrings/9k-yellow-gold-japanese-akoya-pearl-rnd-ball-stud-earrings-with-push-back-1973316.html
Product Actions
Product Highlights
DESIGN: The beautiful Akoya pearl earrings of AAA quality are designed in a ball stud pattern which can also be called Solitaire pearl earrings. They are crafted to precision in a round cut robust setting in 9k yellow gold accompanied with push back closures
ALL ABOUT AKOYA PEARLS: These 9k gold pearl earrings are cultured in Pincdata Fucata oysters also known as Akoya oysters. These precious pearls come from Japan. These pearls are classic and known for their high lustre. They are very clean and smooth in complexion and come in various shades of white to pink. The colour and uniformity of Japanese Akoya make them a popular option for a woman's first pearl stud earrings
9K GOLD: The solitaire pearl earrings are crafted in 9k yellow gold. It is highly durable and adds a warm colour to the pearl earrings online
WEIGHT: Two Japanese Akoya pearls of 2.6ct and 5-6mm faceted round cut are used in these pearl gold earrings. The height of each pearl is around 0.6cm with a total of 0.36 grams of 9k yellow gold
SIGNIFICANCE OF PEARL EARRINGS: Pearls are referred to as "new diamonds" as they have been a great choice by women and men too. The pearls online have become a gender-fluid gem embarking sophistication and symbol of status. Pearl wearer reflects a soft side maintaining an incredible strength. Recently many celebrities have been seen using this exceptional piece of the gem at red carpet events. Wearing pearls brings a lot of positive benefits to one's life and strengthens their mind
HOW TO CARE FOR YOUR PEARLS: Wipe down your pearls after wearing them with a sofa soft cloth to remove any undesirable residues. Avoid subjecting them to excessive heat e.g. sunlight. Do not apply chemical products while wearing the jewellery
Product Details
Colour

Gold

Style

Solitaire Earring, Stud Earring

Product Code

1973316

Metal Name

Metal Weight

0.360

Metal Karatage

9k

Metal Type

Gold

Type

Web Exclusive

Height

0.6CM

Gender

Female

Main Stone Name

japanese akoya pearl

Total Weight

2.600
Stone Details
Japanese Akoya Pearl Round 5-6mmmm Cabochon Cut

Qty: 2 Weight: 2.600ct.
Product Description

The highest quality Akoya Pearls grow in the ocean for up to about two years to allow sufficient time for the pearl to form with thick nacre and incredible lustre. 2.6 carats of round cabochon cut Akoya Pearl have been studded onto these earrings, offering a brilliant white shine. These earrings are forged in yellow gold plated sterling silver for added durability and timeless elegance.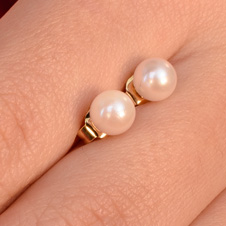 These Akoya Pearl Stud Earrings earrings put a nostalgic take on the style with just a touch of mid-century flair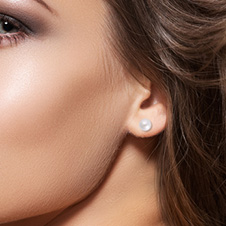 Ideal for both evening and daytime wear, these Akoya Pearl Stud Earrings are equipped with a push-back clasp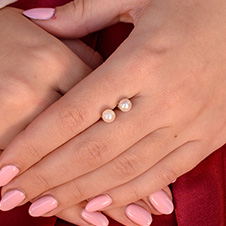 These Japanese Akoya Pearl Stud Earrings are crafted in timeless yellow gold plating sterling silver for impeccable lustre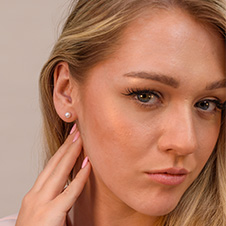 Despite their dainty size, our Akoya Pearl Stud Earrings dazzle with their highly lustrous finish and thick, glossy nacre