Bracelet Auctions
The instant glamour so ingested by bracelets is unprecedented. Pulling it up as a single piece or if stacking on it, the final result is an impeccable style that complement almost every outfit. So, here is everything to let you glam up in the best way and with bracelet auctions the fun would be at another level. Stock up on your favourite styles and never miss a chance to add the shine to any event you turn to. Remember auctions are a real win for grabbing the awesomeness.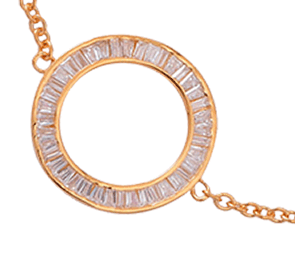 Read More About Bracelet Auctions
Bracelets have a charm to accent the arms in the most reminiscing way. With the gorgeousness embraced in every piece they tell a bling story worth flaunting. So, if you have a hidden heart for bracelets embrace it now as these are certainly going to add a drama to your entire look.
TJC understands how a piece of jewellery serves the right purpose in shining one's personality. Therefore, TJC's bracelets auction is a real treat to let one be all shiny and impactful with the choice of jewellery they prefer to opt.
Auctions are thrilling and a fun experience where one can bid and watch the products in the watchlist. Placing a bid and if lucky winning the auction ultimately, it serves a rewarding feeling where one can certainly be matching all the level of ecstasy. Even losing it is not dejection as there is another chance to place the bid among your favourite's auction bracelets.
TJC takes into account a more user-friendly web auction experience where no problem is faced by the user at all and the entire process is extremely smooth. There are some spectacular designs for heart stealing bracelets that goes with latest trends and finished with high adroitness. Every bracelet weaves a tale of a sheer romance where you can do everything except ignoring the piece.
So stacking up your bracelets or simply adding one for the remarkable look, a bracelet is the most coveted piece of accessory to adorn. Bring the shine and don the most spectacular bracelet among bracelet auctions in the UK.
Be there at TJC for grabbing all the awesome breeze of it and why not the luxurious and dramatic gold and silver bracelets auction? Take an experience of the awesomeness up here.
| | | | | |
| --- | --- | --- | --- | --- |
| 00 | : | 17 | : | 41 |
| Hrs | | Mins | | Secs |

| | | | | |
| --- | --- | --- | --- | --- |
| 00 | : | 18 | : | 45 |
| Hrs | | Mins | | Secs |

| | | | | |
| --- | --- | --- | --- | --- |
| 00 | : | 19 | : | 03 |
| Hrs | | Mins | | Secs |

| | | | | |
| --- | --- | --- | --- | --- |
| 00 | : | 20 | : | 31 |
| Hrs | | Mins | | Secs |

| | | | | |
| --- | --- | --- | --- | --- |
| 00 | : | 20 | : | 48 |
| Hrs | | Mins | | Secs |

| | | | | |
| --- | --- | --- | --- | --- |
| 00 | : | 27 | : | 03 |
| Hrs | | Mins | | Secs |

| | | | | |
| --- | --- | --- | --- | --- |
| 00 | : | 31 | : | 11 |
| Hrs | | Mins | | Secs |

| | | | | |
| --- | --- | --- | --- | --- |
| 00 | : | 31 | : | 31 |
| Hrs | | Mins | | Secs |

| | | | | |
| --- | --- | --- | --- | --- |
| 00 | : | 31 | : | 55 |
| Hrs | | Mins | | Secs |

| | | | | |
| --- | --- | --- | --- | --- |
| 00 | : | 34 | : | 47 |
| Hrs | | Mins | | Secs |

| | | | | |
| --- | --- | --- | --- | --- |
| 00 | : | 35 | : | 27 |
| Hrs | | Mins | | Secs |

| | | | | |
| --- | --- | --- | --- | --- |
| 00 | : | 36 | : | 23 |
| Hrs | | Mins | | Secs |