More About Turkizite Jewellery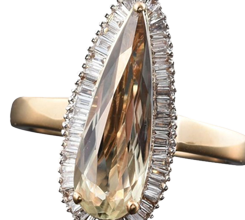 Holding lustrous and mesmerising colour changing qualities as well as exceptional clarity, Turkizite is a rare and wondrous gem now available at TJC!
Previously known as Turkish Diaspore, Turkizite is an increasingly rare colour changing gemstone, with superb gemstone quality exclusively found only in one place in the world, Anatolia, Turkey.
This magnificent stone is said to only have 5 to 6 years of mining, so now's the time to discover and indulge in beautiful pieces of Turkizite jewellery, that you can enjoy now but also have to cherish when reserves are long gone.
Turkizite possess stunning colour changing properties presenting a showcase of hues when under light, ranging from; soft kiwi green, lavender-blue or champagne pink to rich dark red. If that wasn't enough, this mesmerising gem is a 100% natural beauty, that belongs in your exotic jewellery collection, what more do you need to invest in a beautiful Turkizite pendant, or a highly sought after Turkizite ring.
This awe- inspiring gem naturally holds a vivid green colour which is synonymous with intelligence and knowledge.
Highly sought after across the globe, Turkizite emits a timeless beauty gem collectors adore. Sitting at 6.5 -7 on the Mohs scale this luxurious colour changing gem is not only attractive but also durable, and can be compared to some of your favourite gems here at TJC, like Peridot and even Tanzanite!
Today, do not hesitate to take a Turkizite piece of jewellery home, whether it's a versatile pair of Turkizite earrings, or a sparkly Turkizite ring, enjoy a rare piece in your jewellery collection that is not often found in the regular jewellery market.
Explore our collection and find something that will steal your heart, choose to introduce an amazing piece of Turkizite into your collection that can be passed down and enjoyed by generations to come.
Back to top