More about Topaz Jewellery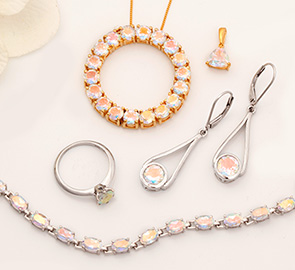 Those born in November may count themselves lucky as they get to enjoy two very different gemstones – Citrine and Topaz, however, Topaz is known as November's primary birthstone, adored for its captivating sparkle.
Topaz is a gem that comes in a variety of colours including; yellow, brown, green, red and pink as well as colourless, with natural deep golden sherry and heavenly pink hues being the most valuable.
Topaz is a silicate mineral of aluminium and fluorine. When you think of Topaz in jewellery, what first springs to mind is a vivid blue hue.
Blue Topaz is one of the most affordable gemstones and is often set in silver designs, perfect for any occasion, so check out our stunning Topaz Earrings and blue Topaz rings!
In recent years blue and green topaz have become increasing more popular and you'll often see it being used in jewellery designs such as bracelets.
It was thought that the enigmatic Topaz was found on an island called Topazios, in the Mediterranean. As Topaz' natural colour has always been a brown/yellow golden colour, its stone was often mixed up with Citrine, which holds a similar colour. The name topaz is through to be derived from the Sanskrit word 'tapaz', meaning fire. While others believe it comes from Topazios, an island off of the coast of Egypt.
November's lustrous stone is thought to discourage fear, anger, release tension and enhance strength, while also believed to balance happiness, symbolising friendship.
The most famous topaz is gigantic 1680 carat colourless specimen, known as the "Braganza Diamond" and is set in the Portuguese Crown Jewels.
As Topaz is so versatile, it often features throughout jewellery in clusters of smaller stones, as well as large statement gems. If you want the colour of your topaz to really stand out, it is a good idea to opt for jewellery that features one or more larger stones. This is because they will draw the eye more, allowing people to appreciate the beautiful colour – a Topaz necklace is a fitting choice.
Colourless Topaz is beautiful for complementing other gems and a great alternative to diamonds, offering a superb sparkling luster.
Dig into our Topaz collection and gift yourself incredible statement rings, elegant earrings, bracelets and eye-catching pendants.
Blue topaz is the gem of the 4th anniversary and Imperial topaz is the gem of the 23rd anniversary, so waste no time in finding the perfect Topaz jewellery and the latest edition for your jewellery collection.
Back to top