Tennis Bracelets
Tennis bracelets don't just come in diamonds! Indulge in tennis bracelet styles that can be worn throughout the year, so find one with your favourite gemstone.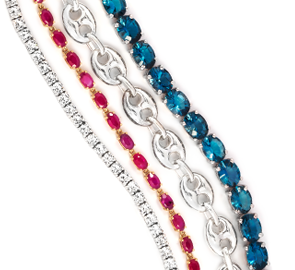 Read More About Tennis Bracelets
Accentuating the beauty of a woman's wrists, bracelets have been a significant part of her jewellery collection for ages with 'Tennis Bracelets' being one of the greatly desired styles. The style got its name in the late eighties after the ace tennis player Chris Evert urged to halt a match to retrieve her fallen bracelet. Initially used for a fine string of diamonds, the term has evolved to refer to a row of all precious gemstones, over the decades. Of all the styles, Tennis Bracelets are ultra-feminine, timeless, sophisticated and glamorous at the same time and for the gorgeous women of UK, TJC has put on display a delightful collection.
Tennis Bracelets from our collection feature delicate, faceted Diamonds, Rubies, Emeralds, Sapphires and Tanzanite deftly set in 9K Yellow Gold or Sterling Silver with rose gold, white gold and platinum overlay for an opulent look. These extraordinary series of perfectly matched faceted gemstones sparkling on your wrist are lightweight, flexible and dressy for special occasions. Dress up your wrists with a cubic zirconia or simulated diamond tennis bracelet from our in-house brand Elanza and add a dash of glamour to your overall ensemble at inordinately reasonable prices.
Available in different shapes like round, oval, cushion, square, octagon with varying sizes, we have dainty pieces that will appeal to the minimalist in you and also the bold pieces that will make a statement. If you looking for an understated yet elegant bracelet that sits effortlessly on your wrist every day, opt for the pieces with cabochon Turquoise, Thulite and Labradorite; and for a contemporary and chic look, layer them with pearls and gold or silver chains spiralled on your wrist. Pick them up for work-wear or spare them for special occasions, treat yourself or pick as a special gift for a loved one, choose a piece that will define you the best.
Your jewellery collection is incomplete till you own one at least one iconic and classic tennis bracelet; enhance it today with an exquisite piece from TJC!