More About Tanzanite Earrings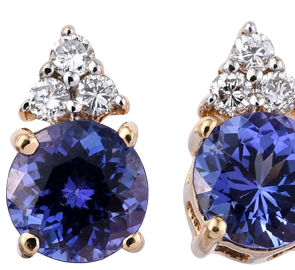 Indulge in the spectacular eternal beauty of this regal blue hued gemstone that is the most sought after gemstone present on earth. Always on top of the wishlist of many women, this gorgeous sparkling treat is what dwells the mind of so many fashion savvy women. Found rarely and particularly in one location in the world, this gemstone has definitely taken the fashion world by storm and took no time in becoming celebrities' personal favourite gemstone. It is rare, eternal and contagious to fall in love with. The vibrant deep blue hues to violet tones claim for a gemstone that beautifully complements all the precious metals.
TJC taking forward the promise to unleash jewellery that is phenomenal have an assortment of alluring Tanzanite earrings that are enriched with opulence and illuminate your look. By picking the finest of tanzanite gemstones from our own mines, we guarantee every piece to be as dazzling as its shows. The cut and clarity elevate the beauty of this stone even more and the highly skilled craftsmanship takes it further.
The fine assemblage of tanzanite stud earrings set in 9K and 14K yellow, white or rose gold and also in sterling silver or platinum with respective overlay calls for a masterpiece in the making. TJC makes sure to design jewellery that serves the need for every occasion. A huge collection for party to formal wear pieces to designs that are chic and stunning, there is everything for the discerning women of today. Tanzanite earrings in the UK have made volumes of demand and TJC brings in only the best. Be it the tanzanite drop earrings, stud earrings or tanzanite and diamond earrings, there is a distinctive touch to every piece not playing any monotony.
As tanzanite is rarer to diamond, and hence calls for a great option as an engagement ring and without any doubt garners gleam and attention of the world. So, if you have the notes of tranquility in head and you want to embark the same on your jewellery, opt nothing best than a tanzanite jewellery and why not a nice pair of tanzanite stud earrings for your love?
Everyday is a celebration, simply allow your love to do the talking and take away memories!
Back to top