Sapphire Rings
Sapphire rings are as popular as ever! Find a ring with majestic allure and make like royals around the world and find an elegant engagement ring, eternity ring, or something special for every day.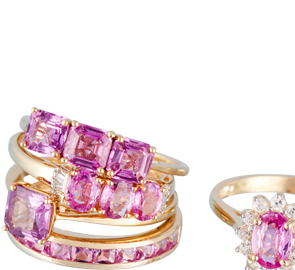 Sapphire was worn as the talisman by the priests during the Middle Ages and was a part of the royal ornaments for centuries. Symbolizing wisdom, power, faith and purity of the soul, it develops a sense of inner peace positive attitude in the wearer. Sapphire Rings are equally popular among men and women and TJC puts on display a wide range at incredibly reasonable prices in the UK.
This mesmerizing blue gem is also the birthstone of September and occurs naturally in a spectrum of colours like pink, yellow, red, black and green. Our rich collection of rings flaunts all the colours along with the rare silver and chocolate sapphires and is elegantly done in Gold and Sterling Silver with gold and platinum overlay. From solitaire and delicate pieces to bold and statement pieces, we have pieces to cater to the varied needs of both men and women.
Sapphire Engagement Rings
It has always been the favoured gem of the royalty so much so that Princess of Wales – Lady Diana and Duchess of Cambridge – Kate Middleton both had a Sapphire Engagement Ring. It is the first gemstone to have overthrown diamond as the standard gem for engagement rings and with hardness as high as the diamond itself, the Sapphire Engagement ring will last you forever just like the love you share. Create an every lasting memory of that special moment of your life with an exquisite piece with AAA category Sapphire in 9K & 18K gold from our in-house brand Iliana.
Sapphire and Diamond Rings
Bright and intense blue hue of sapphire complemented with the natural lustre of a diamond is a sight to admire. TJC has stunning pieces which will add a dash of glamour to your overall look. Wear them for a special evening with a loved one or shine in them at the annual gala, you are sure to attract some envious and longing looks. While our Sapphire and Diamond Rings are priced very moderately, we have also designed some exceptional pieces with simulated gems to suit the style and needs of budget shoppers. Floral, cluster, solitaire, trilogy and cocktail, whatever your preference is, you are certain to find an enticing piece in our collection.
Sapphire Eternity Rings
Sapphire is known to protect the wearer from envy, harm and promotes good health by attracting blessings from heaven, and what better way than to own jewellery with a series of this immaculate stone. TJC brings an impressive range of Eternity Rings featuring multi-colour Sapphires like pink, yellow, red and orange. Owning an eternity ring with a series of gemstones exuding brilliance as a symbol of her husband's commitment is every woman's desire. Also signifying truth, faithfulness, and sincerity, Sapphire is a perfect choice to mark your everlasting love; delight your wife or fiance with a beautiful ring today.