Sapphire Necklaces
Sapphires are a symbol of wisdom power and faith, adorn your neck with a beautiful sapphire necklace a jewellery piece that will instantly add elegance and sophistication to any look.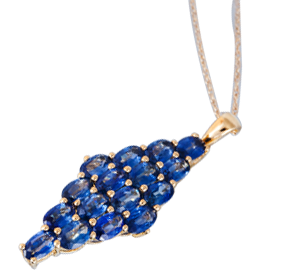 A necklace is an admirable jewellery item gracing the sensuous neckline of a woman adding flair and charm like no other jewellery can. The warm violet and deep blue hue of the precious, pious and protective Sapphire tracing the collarbones is a beatific sight. Sapphire necklaces being an epitome of elegance and sophistication have held a special place in the royal jewellery collection for centuries. To cater to the increasing love of women for this majestic gemstone, TJC has brought exclusively for the ladies of UK and Europe a beautiful selection of Sapphire necklaces at reasonable prices.
A beautiful symbol of wisdom, power and faith, this gemstone is hued hypnotic shades of blue and violet making its jewellery one of the most prized possessions of ladies across the globe. Elegantly set in 14K yellow Gold or Sterling Silver with gold and platinum overlay, our collection of Sapphire Necklaces is rich in pieces featuring all the natural hues of this impeccable gemstone like Pink, Blue, Black, Green and Yellow.
With designer pieces from the house of our favourite Giuseppe Perez, the collection is taken a notch higher. The GP coin charm necklaces studded with a Kanchanaburi Blue Sapphire and set in Sterling Silver with 14K Yellow and Rose Gold or Platinum overlay, are a must-have piece for every gorgeous lady. Pair the Black Sapphire Necklace with matching bracelet and black gown to turn some appreciative glances in your direction, or don the Multi-Sapphire necklace day in and out to punctuate your impeccable style.
A coveted gemstone since ancient times, the birthstone for the ones born in September and the couples celebrating their 55th anniversary, Sapphire make a perfect gift for the special woman in your life. Add a chic and minimalistic necklace from TJC to your collection today for an extraordinarily classy look always!