More About Ruby Rings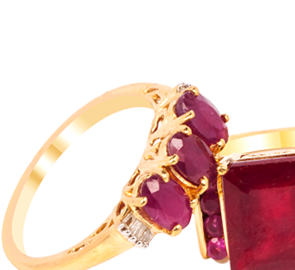 A Ruby is as beautiful as its name and when casted in gold, platinum or silver, it is a sight to be admired. Ruby Rings with the bright hues of this 'King of Gems' are not only a personal style but a statement. TJC has hundreds of handcrafted Ruby rings in the form of engagement, eternity, and wedding rings for the prized customers of UK. There is a piece for everyone in TJC's rich collection of gemstone rings; wear them as a solitaire, cluster, halo or a crossover; wear them as your heart desires.
The birthstone for the month of July, Ruby is one of the four most precious and expensive stones, along with emerald, diamond and sapphire. Adorning the crown and jewellery of kings and queens since the beginning of time, Ruby is a magnificent stone possessing curative and stimulating properties. The discovery of Ruby can be traced back to 2,000 years before now and is believed to protect the wearer from evil, motivate to achieve goals, acquire leadership skills and amass wealth. TJC hand-picks this mystical gemstone from across the world and delivers the finest collection of Ruby Rings in UK.
Ruby Engagement Rings
Owing to its colour and inherent properties, it is a Ruby's fate to be donned as a symbol of love and passion. Engagement rings today are not flaunting just the traditional diamonds but other precious gemstones as well, thanks to Prince William and Kate Middleton for the inspiration. It is time for you to break free too and choose a Ruby engagement ring that will aid your emotions, and increase devotion and happiness in your relationship. TJC wishes a bright and sunny married life for you like the Ruby on your hand. Our exceptionally skilled designers and artisans create these pieces to balance your quest for a Ruby engagement ring that is as much vintage as it is chic.
Ruby and Diamond Rings
Enclosing the brilliant red like the clouds of evening, Ruby and Diamond rings make the perfect accessory for a special occasion. TJC has an opulent assortment of Ruby rings and there is a piece or two to suit everyone's style and taste. Choose from the hues ranging from pink, blood-red, purplish red to deep red, and the Ruby and Diamond ring will be the favourite thing in your wardrobe. Also, the stone for the 15th and 40th wedding anniversaries, Ruby makes an impeccable gift choice. So, the lucky ladies born in July or celebrating the special days anytime soon, make sure you are dropping the right hints and not so subtle ones.
Ruby Eternity Rings
Everyone needs a favourite ring that is practically glued to the finger. Fortunately, TJC excels in creating such pieces and our collection of Ruby eternity rings is where your search will end. Symbolizing strength, vitality, confidence, leadership, and courage Ruby jewellery has have been contributing to the beauty and life of the wearer forever now. You can never have enough Rubies, so add a desirable Ruby eternity ring for an impeccable everyday look.
Ruby rings from TJC have life in them, their colours and designs speak, say what words fail of. Hope you have already chosen the one that speaks for you!
Back to top