Promise Rings
Display your ever-lasting love for that special someone in the most affectionate – a promise ring. Explore styles to adore forever.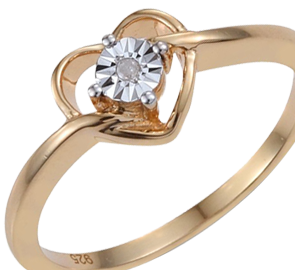 Read More About Promise Rings
Offering of a ring as a token and reminder of one's pledge or promise was started as a practice by man in ancient times, but the term 'Promise Ring', was coined rather recently. Widely used as a symbol of commitment, it signifies the promises made of friendship, pre-engagement, chastity or exclusive dating relationship in modern times. As against common notion, a promise ring does not necessarily represent a couple's love but is a physical representation of joint commitment between any two parties. Usually worn on the middle finger of left hand or ring finger of the right hand, it can also be worn with a chain around the neck. The promise rings are beautiful reminders of a pledge and are increasingly gaining popularity among the women in UK and Europe.
Promise Rings for Her
TJC brings to you a comprehensive assortment of rings that will be a perfect gift for the special women in your life, be it your mother, partner, sister or a friend. Cast in finest metals, we have a plethora of settings for you to choose from like the solitaire, cocktail, cluster, floral, and the most popular eternity band. We at TJC, have some exclusive pre-engagement pieces, which will aptly signify your commitment, under our in-house brand J Francis featuring the classy Swarovski crystals. Available at the most incredible prices, we have a piece for every woman that will appeal to her senses and will suit her personal style. Show her how much you care and think about her, gift her your token of love today. Pick a promise ring for her that represents you and your relationship the best.
Diamond Promise Rings
TJC's exclusive diamond promise rings are set elegantly in sterling silver and gold with some pieces overlaid with platinum for an opulent look. Designed as full and half eternity rings, or featuring stars and heart, we have an extensive collection of simulated diamonds under the in-house brand Elanza. Whatever your preference is – minimalistic or elaborate, chic or traditional, elegant or quirky, we have a piece to suit everyone's taste and style. The ones with gorgeous diamond and gemstone accents are evergreen pieces adding glamor to all kinds of formal and casual ensemble. A diamond is forever and so is a promise and we at TJC aim to make sure yours is kept forever.
Gold Promise Rings
Gold being the most useful metal known to man and symbolizing power, beauty, purity and accomplishment, is most preferred for making jewellery. TJC's skilled artisans have crafted exquisite promise rings studded with gemstones in 9K, 14K Yellow, White and Rose Gold at unparalleled prices. A promise ring is for anyone you want to pledge loyalty, commitment to, personalize it further with their birthstone, and choose an exquisite piece from our collection featuring Emerald, Tanzanite, Aquamarine, Sapphire and Turquoise. If there is more than one stone taking to your fancy, pick the design with dual gemstone setting, perhaps the precious Burmese Ruby accentuated with White Topaz for a dramatic look.
At TJC, we understand your need and love for synchronising your jewellery with your attire, especially when it is something that you have to wear forever; therefore we bring nothing but the best for you.