Peridot Rings
A popular jewellery choice in Europe during the Baroque period, your finger is missing the glamour of a Peridot ring.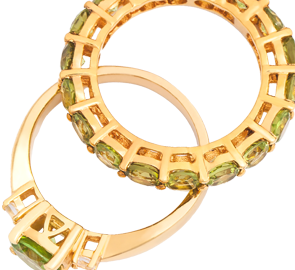 Known as the "Gem of the Sun" this yellowish-green hued gemstone has a long history and has been treasured since earliest times. Peridot gemstone is an August birthstone and often been confused for emerald accounting to its bright rich green colour. This gemstone holds balance and stimulates energy that aids in renewal and rebirth. Also called as the gemstone for lovers, this gemstone is claimed to bring harmony and love in relationships.
Coming to the strong hues that are subtle to vibrant, peridot rings has got much attention from across the globe. At TJC one can find some stunning jewellery assemblage, especially for peridot rings in white gold that is a true stunner. The seamless beauty of these rings has made them one great accessory to complement with any occasion that may come through. With some alluring designs from chic to subtle, classy to contemporary, formal to parties, the collection has it all.
For a special place for silver jewellery, one may get the enchanting dosage with silver peridot rings that make way for the most dramatic yet dazzling colour combo of white metal on a vibrant yellowish green gemstone. Every single piece is richly curated with fine artwork and excellence in craftsmanship to produce a design with silver/gold/platinum overlay. Even solitaire rings set with diamond and peridot has encountered bountiful of admiration from the jewellery lovers.
For all the grandeur, charisma and some dazzling appearances, take a note of a glorious collection of peridot birthstone rings from TJC that are breathtaking at every sight.