Pearl Rings
Get your hands on a piece of nature's magic with a stunning Pearl ring. From delicate and bold to everyday pieces and occasion-wear, we've got a pearl ring that you'll love!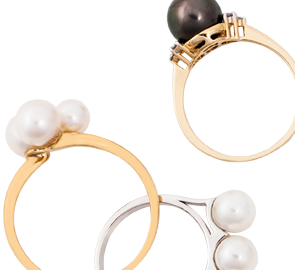 Read More About Pearl Rings
The tiny orbs extracted from oysters are nature's magic at its best. Exuding exceptional translucence and natural lustre, Pearl jewellery is celebrated across the globe and since ancient times it has been a hot favourite of the ladies. TJC brings for the women in the UK an eclectic collection of Pearl Rings at the most affordable prices. This distinctly feminine gem is the birthstone for the month of June and brings the serenity of the ocean along with.
From delicate to bold and everyday pieces to occasion-wear, designer pieces from TJC featuring Freshwater, Japanese Akoya, Tahitian, South Sea and Coloured Shell Pearls will add the right amount of flair to your outfit. Elegantly set in 9K Yellow Gold or Sterling Silver with Gold and Platinum overlay, these rings are as vintage as contemporary and perfect to be worn across seasons. Pair a Pearl and Diamond ring with drop earrings and choker to add a dramatic effect to your ensemble for a wedding ceremony or pick the timeless and classic solitaire ring to infuse elegance into your everyday look.
Along with treating health issues, preventing hysteria and promoting mental stability, this naturally beautiful gemstone is also regarded as a symbol of romance and thus makes a luxurious choice for proposing marriage. Gift a sophisticated Mother of Pearl Engagement Ring as a unique and forever symbol of your love. Available at the most economical prices our collection is rich in rather classy hues of this sublime gemstone like Silver, Golden, Black, Blue, Pink and Ivory.
For a fashion savvy lady, Pearls are not only an indispensable part of her jewellery box but also speak for her distinctive style and immaculate choice. Rings also make a cherished gift, treat a loved one or pamper your own self or with an exquisite ring from TJC today!