Pearl Necklaces
Incorporate pretty pearls into your everyday looks. Choose a timeless style necklace and adore for your pearls for generations to come.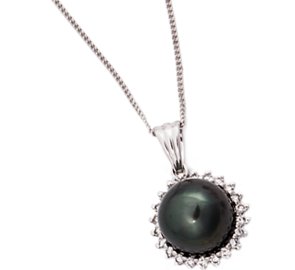 Read More About Pearl Necklace
A necklace as a piece of jewellery has a strategic importance; tracing the collarbones, it accentuates the beauty of a woman's most admired body part – the neck. Add a strand of Pearls to your neck and it is a delightful sight; your mirror will testify that for you. At TJC, we design necklaces that make sure the world tells you how beautiful you are. Known for its unmatchable beauty, a Pearl is not only the earliest gem known to man but also the only gemstone with natural beauty.
An epitome of sophistication, Pearl is the birthstone for June. The coolness and calmness that this gemstone brings along with makes it one of the most desired gemstone for the ladies across age groups. As against common notion, you do not have to be over 40 years to pull off Pearl jewellery; you just need to have an understanding of elegance and let the gem do the rest. Be it multiple strands of Pearl, solitary Pearl in a gold or platinum chain, single Pearl necklace, Pearl drop necklace or a Pearl choker, TJC's collection of Pearl necklaces is the best in UK.
Real Pearl Necklace
As natural as this mystical gemstone is, it derives its distinctive colours from the inner elements of the shells, ranging from white, ivory and silver to pink, black, purple, blue, green, and even gold. Hope you have an appetite for experiment because TJC's eclectic collection of real Pearl necklaces flaunts all shades prudently handcrafted in a variety of styles with multiple layers and sizes, especially designed for the UK customers. Put these on daily or spare them for the special occasions, these real pearl necklaces are here to stay and add more glamour to your collection.
Pearl Pendant Necklace
Signifying faithfulness, friendship and loyalty, a Pearl pendant necklace makes the perfect gift for everyone you hold dear. The times have changed and so have the ways the Pearls are designed being more chic and modern than ever. Casted in contemporary designs to make a statement, these pearl pendant necklaces are an absolute must-have for any season. Also considered a symbol of purity, chastity and modesty, a Black Pearl necklace could very well be your statement of style, let it work its charm every time you put it on.
Freshwater Pearl Necklace
Freshwater Pearls hold significant healing properties besides calming the mind and promoting mental stability. Considered to be effective in treating health issues related to the stomach and heart, pearl can just be your favourite stone from now on. TJC brings to you an inordinate collection of freshwater pearl necklaces to choose from. While being known for the opulence they exude, they can also be chunky and muddled, and still make you look equally classy. Layer these freshwater pearl necklaces with beads, shells, other gemstones or with the modern golden chain and be ready with a distinct style of your own.
Pearls are always appropriate and TJC's jewellery helps you look your best always. So checkout your cart full of Pearl jewellery now!