Opal Rings
Opals are considered a symbol of love and hope. Find an enchanting Opal ring for yourself or pick one as a beautiful gift for someone else, we have a versatile range waiting to be explored.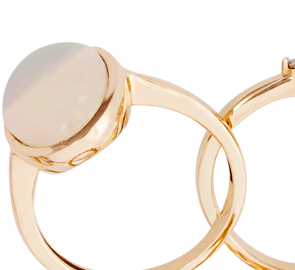 Read More About Opal Rings
Opal, the birthstone for the month of October, is a magnificent gem and was considered to be a symbol of love and hope by the ancient Romans. Owing to its ability to radiate all colours, it is also regarded as the luckiest and most magical of all gems and hence finds a great use in jewellery making. Opal Rings have emerged to be a favoured accessory among women the world over, and especially for the gorgeous ladies of UK TJC has brought an extensive array at exceptionally reasonable prices.
Designed and crafted by skilled artisans, our Rings feature the entire spectrum with the vibrant Ethiopian Welo, Green, Orange and Fire, the soothing Peruvian Pink and Blue and the dramatic Black, Dendritic and Boulder Opals set elegantly in Sterling Silver and 9K, 14K & 18K Gold. At TJC, we have artistic pieces in cluster, floral, solitaire, crossover, trilogy and cocktail to accentuate your look at every occasion. Don a solitary Opal or a designer piece from the Jewels of India collection every day through the week for a perfectly put-together look or put on a beautiful Ring in floral or cluster setting to add instant glamour to your sun-down ensemble.
It is said that there are worlds in an Opal owing to unique hue combinations and crystal structures. It is also known as multi-gem with softer fire than ruby, brilliant purple of amethyst and green of emerald shining in an incredible union and is known to enkindle optimism, enthusiasm and creativity. This October birthstone is also associated with purity, innocence, hope and faith which also make it an ideal choice while proposing for marriage. Pick an exquisite Opal and Diamond Engagement Ring to express your commitment and undying love.
Every piece from the house of TJC is created with utmost care, excellent quality of gemstones and trendy designs to suit individual style and budgets. Enhance your jewellery collection and let this mystical gemstone ring sitting elegantly on your finger speak for your fashion sense.