Opal Earrings
Explore our entire spectrum of opal earrings and discover a myriad of styles perfect for you. Will it be studs, drop, hoops, dangle, or climbers..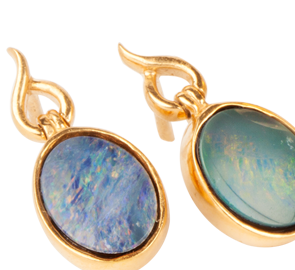 The chemistry that comes into play making opal one of the most sought after gemstone is interesting. It is a precious gemstone and possessing to its nature, it makes light diffract, hence, forming many colours. From crystal clear to white, grey, red, orange, blue, magenta, rose pink to black, this is quite a piece of a gemstone to celebrate love and life.
Opal earrings exude sheer brilliance to every piece. After all, some awe-inspiring colours stirring their magic with some precious metals like sterling silver, gold and platinum, produces nothing but a masterpiece. A gorgeous pair of opal earrings in the UK market is going with all the rage thanks to its distinctive nature and purity of the gemstone that stands out your look. TJC ensures the authenticity and offering low-cost jewellery with untarnished quality and design.
Earrings have always taken the fancy of a woman, no matter; it is studs, loops or drops. The notes of tranquility when complement your brazen look, many eyes sticks to you. If that is not what jewellery has to do, what is?
Be the conqueror of your own world and elevate you style goals teaming up some awestruck opal stud earrings on a formal style to that chic paparazzi flirting dress. Opal earrings, thanks to its varied colour options, suit every style, every occasion and to every woman.
Marching the fashion aisle is a milestone itself and once you learn it, the sky is the limit. So, opt for glistening piece of jewellery from TJC and ensure you act congenial to your personality and bling the world with your never-ending allure.
Shop the gorgeous opal earrings especially blue opal earrings that have seen immense love from our buyers.