Necklaces
Give your style an up-haul with a lovely necklace. Find a stand out piece to wear alone, or treat yourself to a multitude of style to layer up for a contemporary twist.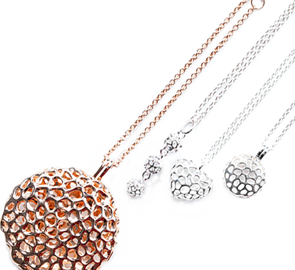 Read More About Necklaces
A necklace is a piece of jewellery everyone needs in their jewellery collection, just like a versatile pedant.
Necklaces often make for a trendy and super versatile piece that can be worn with other pieces from your jewellery box as well elegantly alone.
Make a feminine statement with a necklace suitable for every day as well as a more special, intimate events.
At TJC we have something for every personal style. Discover a necklace that exudes style and sophistication. Opt for a skinny necklace at any length in gold or silver and layer amongst other styles and designs for a trendy statement. For a more classic look ideal for every day, let a luxurious necklace that skims the neckline, perhaps an elegant pearl necklace, be your first choice.
If you love the look of a more of a statement necklace, go for a piece that is truly eye-catching, maybe a word necklace, heart necklace or a stand out choker.
Trace your collarbones with a bold necklace design with a white gold necklace and indulge in the best of both worlds, luxurious silver colouring with the sturdiness of gold that will delicately elongate your neck.
Find a diamond necklace that will complement your personality. Diamonds are a timeless and unbreakable gemstone, so ensure you'll look glamorous with a style you adore.
Whatever you decide on discover something you'll appreciate for years to come with a stunning versatile necklace with TJC.