Men's Bracelets
Add masculine touches of style your look with our collection of men's bracelets. Find a great gift for the men in your life, right here!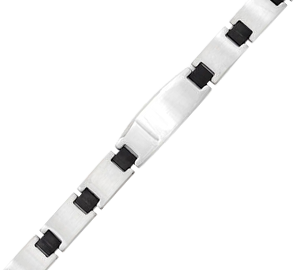 Read More About Men's Bracelets
Jewellery in the form of amulets or talismans worn to ward off evil and bring good luck has been a part of a man's ensemble for centuries. Also worn as a symbol of wealth and societal status, men's jewellery has come a long way over the course of time. From leather thong necklaces and beaded bracelets to watches and cufflinks combo, to innovative bracelets and sophisticated rings, options for men have only increased with time and so have the availability and resources. TJC brings for the modern men of UK a rich collection of contemporary and designer bracelets.
Blending ruggedness and masculinity with style and sophistication, we have created exceptional pieces bearing in mind the style and preferences of men in UK and Europe. A classy men's bracelet in silver is a 24X7 accessory complementing your day and evening look equally; add a diamond to it for a put-together look for any occasion. To appeal to the minimalist in you, we have crafted a plethora of understated pieces in Thai sterling silver and stainless steel that will sit effortlessly on your wrist. And, if bold and statement pieces are your style, then we have an impressive array of men's bracelets cast in 9K, 14K Yellow, Rose and White Gold, and some designs with rhodium and platinum overlay for an affluent look.
Luxurious and awe-inspiring accessories are a must-have for men and women alike, and an exquisite bracelet with a macho and urban edge is the perfect addition to a man's collection. TJC has an impressive assortment of timeless, classic and modish styles including Curb, Bismark, Mariner, Tulang Naga, Belcher, Coffee Bean, Herringbone and Byzantine at the most affordable prices possible. Buy as a treat for self or as a gift for a dear friend, enhance your fashion credentials with a versatile men's bracelet from our exclusive Royal Bali, Jewels of India, Vicenza, or L'Italia collections.
Create your own style and be a trendsetter with a lavish men's bracelet from TJC!