Heart Necklaces
Indulge in an elegant and eclectic range of heart necklaces. If elegant and feminine jewellery is for you, we've got a plethora of styles to choose from…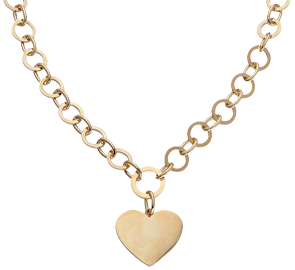 Read More About Heart Necklaces
Jewellery has always known to be a very personal thing, telling a story about the person who is wearing it; add a heart shape to the jewellery and it becomes the black and white representation of love. While necklaces are an elementary component of a woman's jewellery collection, owning a heart necklace is imperative to complete the collection. TJC brings for the gorgeous women of UK an eclectic collection of heart necklaces delicately crafted in Gold or Sterling Silver.
Wrapped elegantly around your neck necklaces instantly elevate the look of any outfit; from dressy to casual and from delicate to bold, TJC has a piece to suit everyone's style and resources. Set in Yellow, White and Rose Gold or Sterling Silver overlaid with Platinum and Gold, our collection of necklaces and pendant sets flaunt shimmering gemstones, charms, lockets, interlocked and double hearts. Heart necklaces are versatile pieces, you can either let a solo heart sit gracefully at the base of your throat or can create a dramatic look by layering it with pearl strands and solid chains.
If elegant and feminine jewellery is your calling, go for an exquisite heart pendant and chain from designer collection of Giuseppe Perez or choose the one with a dual stone setting in contrasting hues. The heart necklaces featuring gemstones like Jade, Turquoise, Quartz, Tanzanite, Austrian Crystal and Amethyst are outright statement pieces, adding glamour to your overall ensemble. For an everyday look, pick a piece from the Royal Bali and Royal Jaipur collections or the in-house brand Elanza that features simulated diamonds and gems.
Used as a symbol of love for thousands of years, heart jewellery also makes the perfect valentine day gift. Surprise the special lady in your life with a symbol of your love and commitment, perhaps a bright red Ruby glistening around her neck.
TJC's high-end jewellery is a must have for all the gorgeous ladies of UK, something that you will adore forever.