Gold Rings
Dare to dazzle? Explore our extensive range of gold rings, dig into our eclectic collection featuring your favourite gemstones ideal for ring setting - just take a look!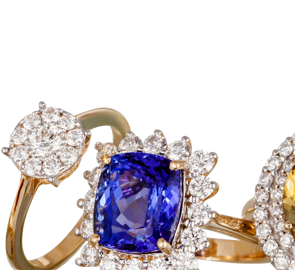 Read More About Gold Rings
Found in water streams all over the world in its native state, Gold was the first metal known to humans. The shining yellow chunks had impressed everyone to a great extent and it was only a matter of time for this brilliant, lustrous and malleable metal to become an integral part of human culture. Ancient Egyptians pharaohs are known to possess huge resources of Gold jewellery and the practice has only garnered more followers all over the world with time with Rings emerging as the most popular element. At TJC, we have an extensive range of 9K Gold Rings studded with precious gemstones for the gorgeous women of UK and Europe.
The craze for gemstone jewellery is spreading like wildfire among the ladies and we have a great legacy of producing some awe-inspiring pieces. Our eclectic collection features Yellow Gold Rings with birthstones like Diamonds, Emeralds, Rubies, and Sapphires, Tanzanite, Opal and Peridot at the most affordable prices possible. Pick as a birthday gift and delight a close friend or pamper yourself with a classy piece of jewellery. Designed as per latest fashion trends and deftly created by our skilled artists, these pieces are sturdy and here to stay. Put on the Solitaire diamond gold ring or the gold band every day for a complete look and set your heart on the birthstone ring in a cluster setting to glam up your after-dark ensemble.
From the very beginning, Gold was associated with Gods, wealth, power and beauty and with Rings depicting eternity, Gold Rings made the perfect choice to be presented as a symbol of forever love. For the ones looking to make a commitment anytime soon, pick a beautiful piece from TJC's collection of engagement, wedding, eternity and promise rings set in 9K yellow gold. Every day or occasion-wear, sophisticated or statement, sparkly diamonds or colourful gems, whatever your preference is, you will certainly find a piece that will suit your needs and define your style without digging a hole in your pocket.
Dazzle people with TJC's Gold Rings everywhere you go!