Garnet Rings
Prized in the jewellery world for their natural sparkle, wear this gemstone with pride and glow in front of your friends.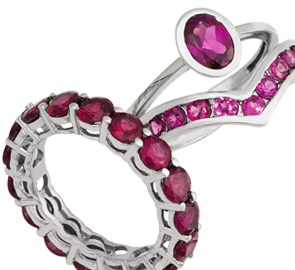 January's very own, the deep and rich gemstone is Garnet. Mined in a rainbow of colours from red, yellow, pink, orange, green, purple, brown and black, this gemstone is considered to be a great gift to bond in friendship and trust.
Deep red garnet is an enchanting sight to behold your senses. It's gorgeously stunning pomegranate seeds alike colour is resplendent. What even gathers the attention is the astonishing amalgamation it makes with precious metals like silver, gold and platinum. Garnet rings for one have been the most 'dreamt about" jewellery among the garnet gemstone. The fine chemistry it plays with finely cut small sized garnet stones to that one huge garnet flanking on the top is surreal. To ice it up, the entire piece when crafted gloriously calls for a masterpiece to say the least.
A ring is the most possessed jewellery of a woman. The way she flaunts her style with a ring is her business that she deals in with perfection. A garnet ring is a great embodiment of a personal style she looks forward to flaunting. It is an ornate that defines her eclectic self and of course opulent aura. From formal to chic, party to weddings, garnet rings have accumulated volumes of love form women in the UK.
Such surreal pieces are a classic heirloom to pass on to generations and the brilliance of TJC comes enveloped in every piece. By understanding the art and craft of curating marvellous jewels that call for a go-to piece of jewellery. TJC works in close play. Not only that, garnet engagement rings are widely been chosen in an account to its ethereal beauty. In fact, a garnet eternity ring is no lesser in spreading its charm.
Here to all, binge shopping a drop dead gorgeous combination of garnet and diamond ring to whet your unparalleled love of enticing jewellery.