Aquamarine Rings
With its calming and majestic appeal, Aquamarine is a popular gemstone around the world. Explore our vast range of rings and find a piece you enjoy wearing.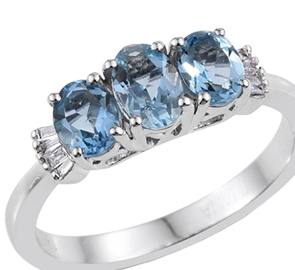 Read More About Aquamarine Rings
Despite being discovered as early as 300 B.C. the March birthstone Aquamarine became popular only in the early 17th century. With its calming blue-green hues, it has been a favoured gem for jewellery making lending the pieces a serene, tranquil and majestic appeal. Derived from Latin word Aqua Marinus, it means water of the sea and refers to its beautiful ocean-like colour which varies from deep-blue to bluish green. We at TJC bring an impressive assemblage of Aquamarine Rings for the gorgeous women of UK at incredible prices. we aim to offer you the best of gemstones possible from around the world with Espirito Santa, Brazilian Canary, Santamaria, and Milky Aquamarine rings in our array.
Elegantly set in Sterling Silver with 14K Gold and Platinum overlay or Rhodium plating our collection of Aquamarine rings is quite modernist. We have enchanting pieces in the cluster, crossover, eternity, 5 stone, trilogy, floral, 3-stone, solitaire and 7-stone setting to suit individual style and preferences. Symbolising honesty, loyalty and faithfulness the Aquamarine rings are increasingly becoming popular as Engagement rings especially when embellished with other precious gemstones like Diamond or Topaz.
The transparent blue-green hues of this beautiful gemstone will instantly accentuate your look at all occasions and perfectly complement your spring and summer wardrobes. Believed to have healing powers and being effective in curing ailments of the liver, jaws, stomach and throat, Aquamarine rings also make a perfect gift for self or a loved one. Pick the rare deep blue classic solitaire Aquamarine ring to punctuate your style, and make an everlasting impression at an important work meeting or to a casual evening out with friends.
Rings from TJC are sure to charm their way into your heart making sure you look your best always; it is time to let this soothing gemstone take the lead.