Amethyst Rings
The deep violet hue of Amethyst has a gorgeous allure adored by those around the world. Find a stunning Amethyst ring set in your favourite metal and style with your favourite looks.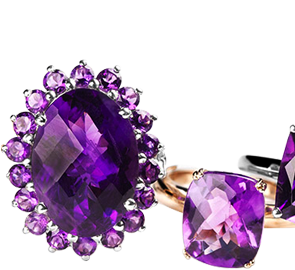 Read More About Amethyst Rings
Once regarded equal in value to ruby, emerald and sapphire, Amethyst is a beautiful gemstone that was an integral part of Egyptians and Greeks' jewellery in the ancient times. The deep violet hue of this gem has attracted more and more men and women over the centuries and today Amethyst Rings are one of the most coveted jewellery items in the UK. And to cater to the rising demand, TJC has put together an extensive array of rings at the most affordable prices. Amethyst is the birthstone for the month of February and is considered as a protection stone owing to its ability to ward off drunkenness and promoting patience, balance, calmness, and peace.
Designed by skilled artists, our collection features floral, crossover, cluster, solitaire and cocktail rings carefully crafted in Sterling Silver with some designs overlaid with Gold, Rose Gold and Platinum for a luxurious look. Amethyst rings are eternal pieces of jewellery instantly taking the overall look a notch higher with its pale red-violet to deep violet hues. The solitary gem shining brightly on your finger will add a dash of glamour to your everyday look and an Amethyst and Diamond ring will impeccably accentuate your look for any special evening event. We also have some exquisite pieces in the Royal Bali collection for the lovers of contemporary jewellery.
The bright purple hue of this gem has stolen millions of hearts across the globe and has enticed the ladies to prefer Amethyst Engagement Rings as well. We, at TJC handpick the best of Lusaka, Zambian, Uruguay and Rose De France Amethysts for our prized customers in the UK and this eye-catching gem is a worthy addition to every lady's jewellery box.
Dive into the beautiful world of this gemstone with TJC's collection and pick a piece that you will adore for years to come.