Opal
Opal Stone
Opals are beautiful gems that have always been prized for their outstanding beauty. They boast colour formations that captivate the eye.
Origin & Supply of Opal
Opal was discovered around 4,000 years ago and derived its name from the Latin "Opalus" which means seeing jewel and from Sanskrit "Upala" which means a precious stone. The ancient Romans used to wear opal as a symbol of hope and purity and it was believed that it has magical healing powers. Till the late 19th century Slovakia was known as the primary source of opal, but this misconception changes after a large deposits were found in Australia in 1887.
Optical Features
Opals are famed for displaying a wealth of uniquely wondrous colour combinations, right across the spectrum from white to black and from opaque to semi-transparent. It is the tiny silica spheres arranged in uniform patterns which diffract the light entering the stone to make them shimmer so.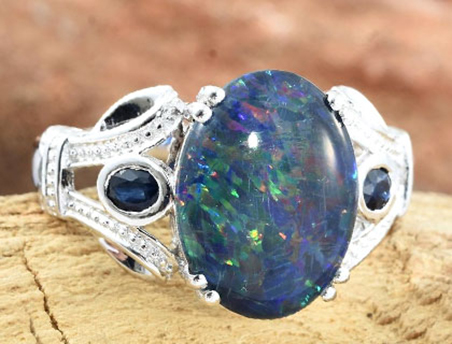 Conclusion
One of the most favoured of non-precious gemstones, amethysts present such a superbly rich purple hue that they are simply a must-have for any jewellery fan. These beautiful gems are both entrancing and enticing, while at the same time being refreshingly affordable.
Gem Specs
Colour
Golden brown
Crystal Structure
Orthorhombic
Sources
Brazil, Siberia, India
Opal Buyers Tips
Opal is famous for its unique patterns and colour effects. Opal's moh's hardness is 6.
Black opal is the most valuable and are highest priced. The other variants of opal, like a white opal and crystal opals are priced as per their fieriness.
Keep check on cracks and clarity as the more vibrant coloured opal, the more costly it will be.